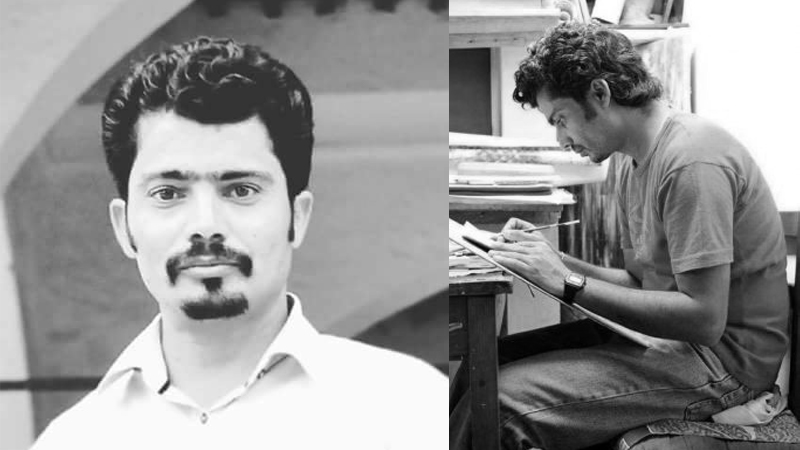 Pakistan lost another son to extrajudicial killing and violence over alleged blasphemy on the 17th of July, 2018 in Lahore. Qutub Rind was a National College of Arts (NCA) graduate who was visiting Lahore for an art show, according to the reports by Pakistan Today. The bright 32-year-old artist, hailing from Sindh, had a row with the landlord of the apartment where Rind was staying. Following the bitter argument, the landlord and few of his relatives went to Rind's place, thrashed him, broke his legs and arms and then, threw him off the roof. After being taken to the hospital, Qutub Rind succumbed to his injuries.
Read: The Best Among Believers – A Look At The Faizabad Sit-in
When the FIR was filed and the suspects were investigated, they accused Rind of committing blasphemy. Later, the victim's family denied the allegations, claiming that the perpetrators are using the narrative to hide the heinous crime. While the media continue to argue whether it was just another quarrel resulting int bloodshed or an act of blasphemy that deprived Qutub of his life, Pakistanis are taking to social media to express their agitation over the tragedy and rightly so!
Beaten, legs and arms broken, pushed off a third floor balcony on false charges of blasphemy. Who will give Qutub Rind's family justice? https://t.co/YKGdMvYwHl

— fatima bhutto (@fbhutto) August 5, 2018
No justice yet for the artist Qutub Rind. Or his family. Brutally murdered in the name of #blasphemy in #Lahore last month. #Justice4QutubRind https://t.co/MJt5c3vS7n

— Farahnaz Ispahani (@fispahani) August 5, 2018
"artist Qutub Rind killed for alleged blasphemy, family claims" https://t.co/sJK6TVgG2L

— M. Jibran Nasir 🇵🇸 (@MJibranNasir) August 5, 2018
We Strongly Condemned the Brutal Murder of A famous young Sindhi Artist Qutub Rind was killed in Lahore under false charges of blasphemy.#Justice4QutubRind
16-Days ago, first position holder artist #QutubRind in #NCA was brutally murdered in the name of #Blasphemy in #Lahore . pic.twitter.com/09jGuTehaf

— Padam Meghwar (@MeghwarPadam) August 5, 2018
His landlord along with two accomplices broke Sindhi artist Qutub Rind's arms, legs and then pushed him from the third floor of the building.
Now, to cover up the murder they are saying Qutub committed blasphemy to get support/sympathy. pic.twitter.com/ivEsjaj2qS

— Shamila Ghyas (@ShamilaGhyas) August 5, 2018
either by the landlord or on alleged blasphemy whatever is the reason, no one has right to take a life of a person "Qutub Rind"

— Kashif Hussain (@kashif728) August 6, 2018
This is not the first time that the blasphemy law is being used as an excuse to justify mob violence and unjust killing. Many lives saw a tragic end at the hands of the people in power who felt no shame in exploiting blasphemy laws to cover up their sins. It was only last year that Mashal Khan was murdered by these bloodthirsty vigilantes who used religious sentiments as a shield.
Read: Verdict Of Mashal Khan Murder Case Attracts Mixed Reactions From Pakistanis
On one hand, the political parties of the country continue to invoke violent extremism in the name of religion for the sake of bagging votes and add to the exacerbating law and order situation at home. On the other, the frenzy around the "B" word has turned people into inhumane beings who would not think twice before taking an innocent's life. How disillusioned one must be to resort to violence and brutality in order to save the honor of the very same religion that promotes nothing but peace and harmony!
How many more incidents would it take for us to understand the need to revisit loopholes in the country's blasphemy law which are being exploited by hatemongers to achieve their underlying self-serving agendas? How many more Mashals and Qutubs would it take for us to learn that extrajudicial killing anywhere is a threat to humanity and must not be encouraged no matter what! Most importantly, how can we punish anyone for disrespecting Islam by doing something that is un-Islamic?
"Whoever kills a soul unless for a soul or for corruption [done] in the land – it is as if he had slain mankind entirely. And whoever saves one – it is as if he had saved mankind entirely."  (Quran: 5:32)
Read: Is Rao Anwar Becoming A Question Mark On The Integrity Of Our Judiciary?