The level of intolerance in our society has risen to dangerous extremes and Pakistan has lost another son as a result of it. Almost two years after Mashal Khan's brutal murder by a mob, another family has been marred due to "blasphemy" allegations.
Read: Who Will Watch The Watchdog: How Many More Lives Will Be Lost Before NAB Is Reformed?
Professor Khalid Hameed was stabbed to death by his own student in broad daylight in Bahawalpur yesterday on the account of organizing a gender mix event in the college.
On being asked why he killed Professor Hameed, the student with a creepy sense of pride confessed to the crime and stated that the teacher was spreading obscenity and committing blasphemy by organizing a mixed gender event in the campus.
The incident sparked a much-needed conversation around the radicalizing curriculum being taught in our educational institutes.
The hashtag #KhalidHameed was also all over Twitter as the nation mourned yet another huge loss!
Read: This Is A Crash Course On Sexual Harassment & You Need To Tag All Those Who Lack Basics!
In a thread, Zarrar Khuhro, a seasoned analyst, also brought home how a resolution passed in the KP parliament against Aurat March and the hate speech directed towards women who participated in the event can turn into another Bahawalpur tragedy if not contained timely.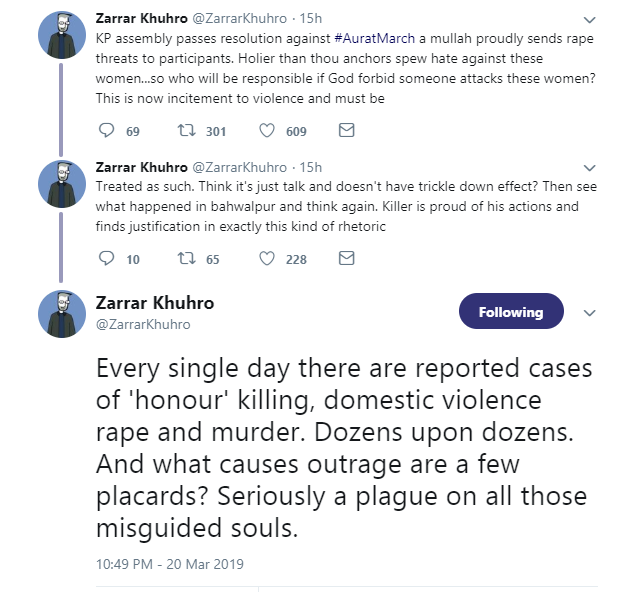 For us, the saddest part is that the student, Khateeb Hussain who committed this heinous act did not feel an ounce of remorse for his actions after depriving our nation of another brilliant mind.
Moreover, after every such loss, we tend to put our heads together to figure out where we went wrong and every single time we come to the same conclusion that we need to get rid of the groups that preach violent extremism to gain votes. But soon the short-sightedness takes over and we go back to pursuing self-serving interests at the cost of innocent lives.
Today, as Professor Khalid Hameed joined the list of Mashal Khans and Qutub Rinds, we must introspect and revisit our policies before this fire eats the whole country!
Read: A Recap Of The Awesomeness That Was Aurat March 2019