Pakistani female army officers, enrolled in the Female Engagement Team (FET) and currently deployed in Congo celebrated International Women's day with the local community.
The female army officers from Pakistan are stationed at different cities in Congo including Sange, Uvira, Kavumu and Goma.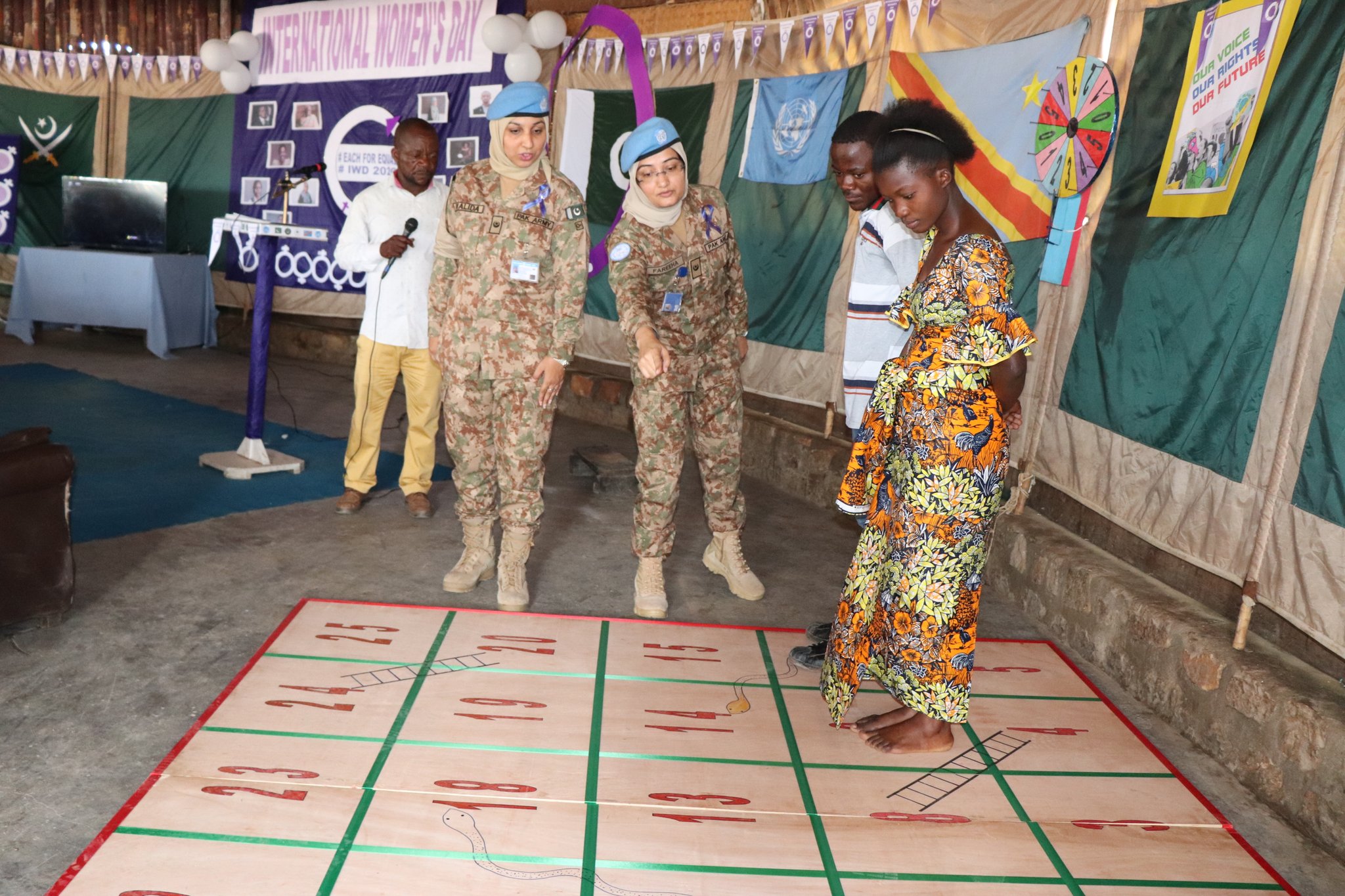 To commemorate this year's theme "I am Generation Equality: Realizing Women's Rights", a conference was held to ensure better protection of civilians and especially Congolese Women.
On March 5, a conference chaired by Lt Gen Augusto Ferreira Costa Neves, discussed the measures to enhance the presence of uniformed female personnel. Female army officers from Pakistan eagerly took part in the conversation and ensured their services.
The officers embraced the slogan "Each for Equal" as they conducted several activities with the local community.
The Pakistani Battalion at Uvira arranged various activities to promote and encourage the concept of gender equality within the local community.
University students also participated in the event to assist the officers in promoting the cause.
Bolo Jawan reached out to a female officer currently deployed in Goma to ask about their life away from home.
The female officer ranked Major, said that even though they are away from their families but the theme for this year's #IWD2020 is what keeps them motivated.
The Major added that she gets her inspiration from Congolese women.
"Despite limited resources and the crashing economy, they face all the challenges with a smile on their faces."
She further remarked that the cause is so grand that it overcomes all the sentimental feelings.
Read: 15 Pakistani Female Army Officers Were Awarded The UN Medal In Congo & We Couldn't Be Prouder!
The major added that, "But sometimes you miss your kids a lot. My daughter used to sleep with me being curled up in her bed. I often miss her and even though she's miles away, I can feel her presence withh all the memories."
While talking about her learning experience, she said that here we learn how a family of five to six individuals survives with limited resources. They earn $1/day only and sometimes even that is not guaranteed.
In the end the officer in a message for the women of Pakistan urged that to enjoy the diversity of our country.
Just love and enjoy the diversity you are born with. Learn to appreciate what others are doing and take motivation to drive yourself. Also, don't judge others, because you never know what the other person is going through.