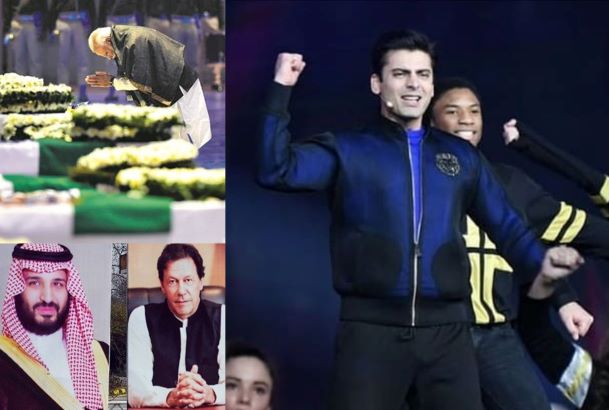 We're back with our list of the top newsmakers of the week in Pakistan. Scroll down to find out who made headlines and why in the last seven days!
Pakistan Super League (PSL) Season 4 Kicked-in In Style
https://www.youtube.com/watch?v=6MuspRjSX7s
The fourth installment of Pakistan Super League commenced in style amid huge fanfare and in the presence of celebrities on Wednesday.
The star studded ceremony featured performances from Junoon, Fawad Khan, Aima Baig and Shuja Hairder. Boney M also performed a medley of its greatest hits.
Read: 3 Things Pakistanis Loved About The PSL Opening Ceremony & 3 Things That They Didn't
The ceremony was attended by 25 thousand enthusiastic cricket fans in Dubai.
Pulwama Attack Once Again Creates Tension Between India and Pakistan
The dastardly attack in Pulwama has anguished the nation.

Yes, this is a time of great sadness.

But, I assure every family that a befitting reply will be given! pic.twitter.com/k9eSlfAePf

— Narendra Modi (@narendramodi) February 16, 2019
An attack on a vehicle in Pulwama in Indian held Kashmir resulted in the death of 41 Indian soldiers.
India was quick to place the blame on Pakistan with their Prime Minister threatening dire consequences in a fiery speech. A day after the terror attack, India withdrew Pakistan's Most Favoured Nation (MFN) status.
The aftermath also impacted the entertainment industry. Indian celebrities such as Shabana Azmi and her husband Javed Akhtar cancelled their plans to travel to Karachi for a literary festival.
#Pulwama attack There is no way we can carry on with cultural exchanges between India and Pakistan even as our martyrs are laying down their lives for us. I stand in solidarity with the grieving families.

— Azmi Shabana (@AzmiShabana) February 15, 2019
Moreover, Navjot Singh Sidhu was sacked from the Kapil Sharma Show after his statement, urging Indians to not blame the Pakistani for terrorism met with widespread backlash.
Pakistan has condemned the terrorist attack and denied any involvement in it. Foreign Minister Shah Mehmood Qureshi and other Pakistani government officials have termed the attack unfortunate but have hinted that Indian PM's war-mongering is aimed at political point-scoring ahead of the general elections in India.
Saudi Crown Prince Mohammad bin Salman's Visit to Pakistan Has the Media Going Crazy
Saudi Crown Prince to arrive in Pakistan today to historic welcome #PakSaudiBrotherhood https://t.co/4iSYBXwb3z

— Geo English (@geonews_english) February 17, 2019
The Saudi Crown Prince Mohammad bin Salman is due to arrive in Islamabad on 17 February. A week ahead of the royal visit, mainstream media went into an overdrive reporting and speculating endlessly.
From the scores of hotel rooms that were booked by the Saudi government to the vehicles that were shipped into Pakistan from Saudi Arabia as part of the royal fleet and from the menu of the government reception to its guest list, mainstream media presented each bit of speculation as breaking news.
At the same time, certain woke sections of the media have made calls to boycott the Saudi royal's visit to Pakistan owing to his alleged involvement in the brutal murder of journalist, Jamal Kashoggi.