Netizens are fuming as photoshoot of a man and a woman in bold dressing in front of the portrait of Quaid e Azam went viral on social media. The portrait of Jinnah is placed on a hillock along Islamabad Expressway near Koral.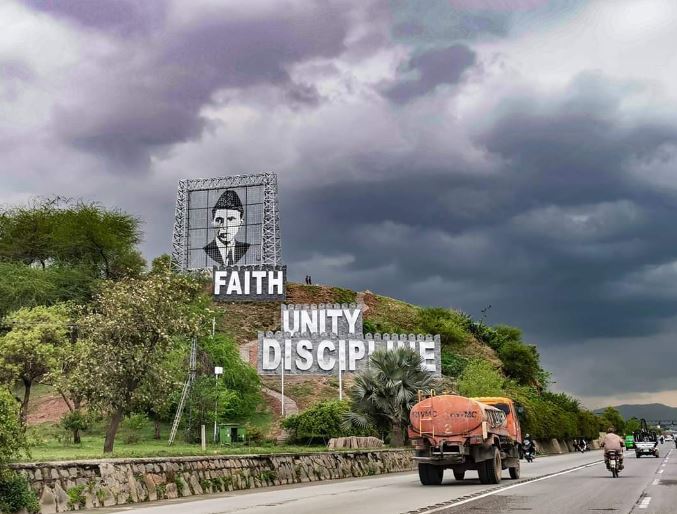 According to various news sources, the duo is part of a musical band called Mystical Shayari, which was present at the site to shoot for an upcoming music video.
Read: Abdullah Qureshi Seems Sorry-Not-Sorry For His Problematic Behavior With Women
Ansar Abbasi among many other furious social media users took to Twitter to express their rage against the viral images. The renowned journalist even tagged Deputy Commissioner Islamabad, Hamza Shafqaat, on the bird app and urged him to arrest the two.
Other than Abbasi, there were many others who took offense from the couple's shoot and demanded punishment for the accused duo.
Meanwhile, there were some who found the gesture extremely inappropriate. They also mentioned that such a shoot was a disgrace to the founder of our nation, Quaid e Azam, Muhammad Ali Jinnah.
Read: In Pictures: 13 Most Devastating Images To Come Out Of The Wildfires Raging In Turkey
However, there were people who were of the view that Abbasi was being a bit too irrational and punishment as big as an arrest was too much to ask for. They iterated that a 'fine would be enough.'
The couple, however, released a statement from the band's Instagram page where they mentioned, "we did this shoot to show respect for Pakistan, and specifically, these three ethics that we are proud to uphold."
Anyhow, amid the online hate, the band has removed their page from Instagram and cannot be found anywhere on social media.
What do you think of the photoshoot in front of the portrait of Quaid e Azam? Let us know in the comments.