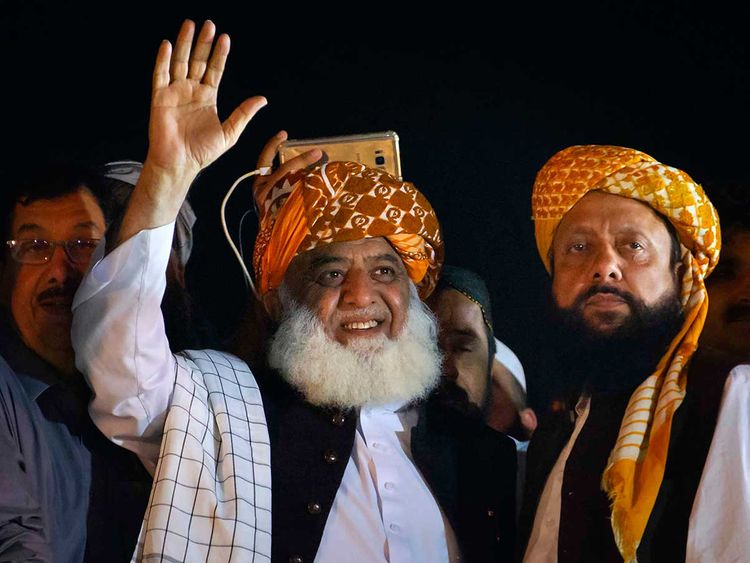 No matter where you are in this world, if you're just a wee-bit informed about Pakistani politics, there is only one man that'll come to your mind whenever you see an orange turban. Yep, I'm talking about the man who has taken this country on a series of "WTF" and "You serious?" moments for the past few weeks – the silky white bearded sensation that is Maulana Fazlur Rehman.
You might also know him by his rather famous nickname, but I won't brand Maulana with such a derogatory term, (it is related to a type of fuel – *wink wink*).
In case you were living under a rock…
Just in case you've been living under some kind of rock then, for your benefit I believe an introduction is in order.
Maulana Fazlur Rehman is the head of JUI-F who was once a figurehead of Pakistani politics. But life hasn't been too kind to him recently. He's been on a slippery slope of doom for quite some time and when he lost the 2018 elections and could not secure a place for himself in the National Assembly, many wrote him off concluding that Maulana had lost his significance in Pakistani politics. SIKE! Guess who's back? Back again! Maulana's back, tell a friend!
Read: Kartarpur Corridor Vs Babri Masjid Verdict: Pakistan Stands On The Right Side Of History
He came, he saw and he left…
The last few weeks in Pakistan have truly been about Maulana Fazlur Rehman, his Azadi March and the subsequent dharna. Despite cries of media censorship, it received its fair share of media coverage creating a buzz that can only ever be recreated if Micheal Jackson were to stroll out of his grave and announce that his first concert would be in D-Chowk.
But all that buzz ended with a bit of a downer when Maulana Fazlur Rehman announced the conclusion of Azadi March on Wednesday night. And just when Pakistan thought Maulana had finally given-up, "PLAN B!" he proclaimed!
Yes, Maulana appearantly has a back-up plan according to which his party workers will now be blocking the main highways and roads across the country as a protest against the "selected government" demanding the resignation of Prime Minister Imran Khan and conduction of fresh elections in the country without the involvement of Pakistan Army.
The art of dharnas
From the 2013 dharna of Tahirul Qadri to the D-Chowk protests of PTI in 2014 and the 2018 Tehreek-e-Labaik Pakistan lockdown, this country has experienced a fair amount of hassle and hype created by these dharnas and their somewhat futile conclusions.
However, what needs to be noted here is that in every single one of these sit-ins, there was some kind of a "deal;" an agreement with the agitators that ultimately resulted in the termination of the protests.
But what happened here?
From the surface it seems like the Government tried to reason with Maulana but he remained adamant about the resignation of Prime Minister Imran Khan. At least as far as the optics go, he refused to accept any kind of deal or dialogue that would compromise his "principled stand."
But then he suddenly announced the end of the dharna and the execution of Plan B (because of course, Plan A was so hugely successful).
To me, from afar, this is how the last three weeks panned out: Maulana gathered his cavalry from madrassas, took the whole country by storm and in the end, basically pulled a, "Prank tha bro, wo camera laga hai, haath hila dein" on the whole country!
And in the end…
There is no doubt that Maulana has managed to make himself relevant again and catapulted his dwindling career but using the religion card for political gains has never resulted in any form of triumph and the same was proven again with this spectacle.
All that this dharna really achieved was to irritate the residents of the capital with road blocks and unavailability of 4G Internet in the city. It was perhaps this last bit that propelled many Pakistanis to show-off their meme-making skills on social media as soon as Maulana announced that the dharna was wrapping-up.
The ride was stimulating while it lasted, but all things must come to an end. How JUI-F will execute its Plan B is yet to be seen but for now, it's Bella Ciao for our beloved Maulana.