Wajahat Rauf's directorial and Pakistan's first original web-series, Enaaya, was released a few days ago under the Indian banner of Eros Now and people's reactions to the OTT's first international venture are horrendous, to say the least.
The lead cast includes the likes of Mehwish Hayat, Azfar Rehman and Asad Siddiqui who all are playing a bunch of young students with a passion for music; sounds so ORIGINAL!!
Read: 10 Times Sajal Ali Slayed In Pakistani Wear!
The mediocrity of the show first came into notice when Ahmer Naqvi aka Karachi Khatmal took to Twitter to share his review of Enaaya (which I think should win an award for the best review of the year).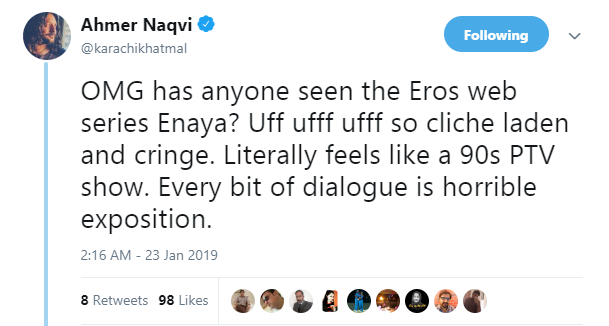 The thread of "praises" continued….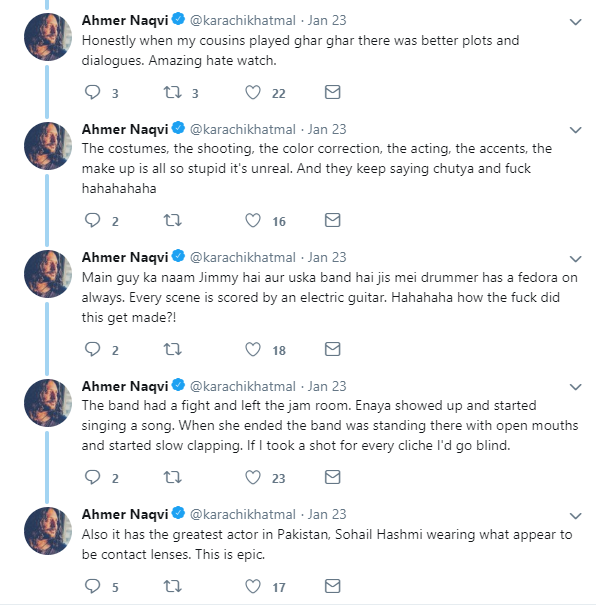 Despite being warned, many couldn't fight their urge to know how bad it could be. The consequences were harmful!

Me trying to watch Enaya #truestory – It is the WORST content ever created. pic.twitter.com/3ReZgJ89xq

— matxmari (@TinkerxTwinkle) January 25, 2019
https://twitter.com/latchingonto/status/1085846254633009157
Finally, one brave woman took it upon herself to live tweet the first episode for people and what you're about to see is… beyond words…
Read: 3 Reasons Why Gillette's TVC Is Already The Advertisement Of The Year!
P.S: We definitely don't like the way she has addressed Mehwish Hayat who is one of the finest actresses we have in Pakistan right now. The fault lies with the makers and not the actors for not looking the age that they're supposed to in the web-series.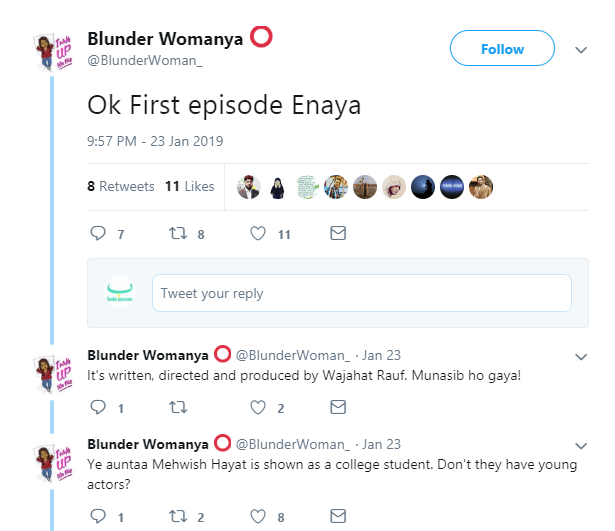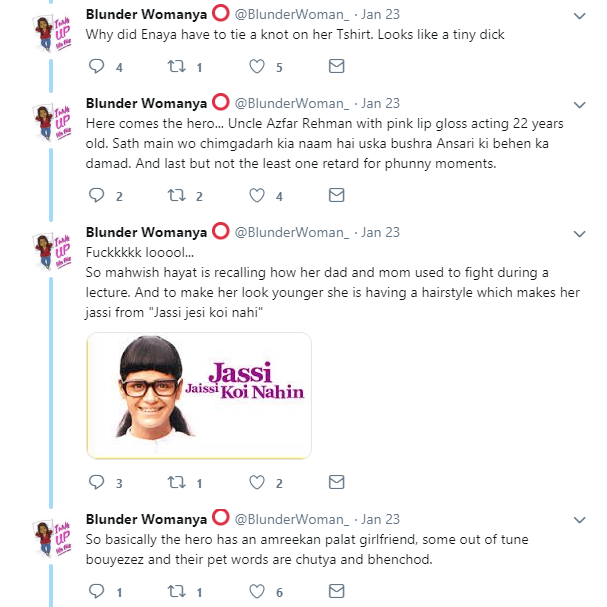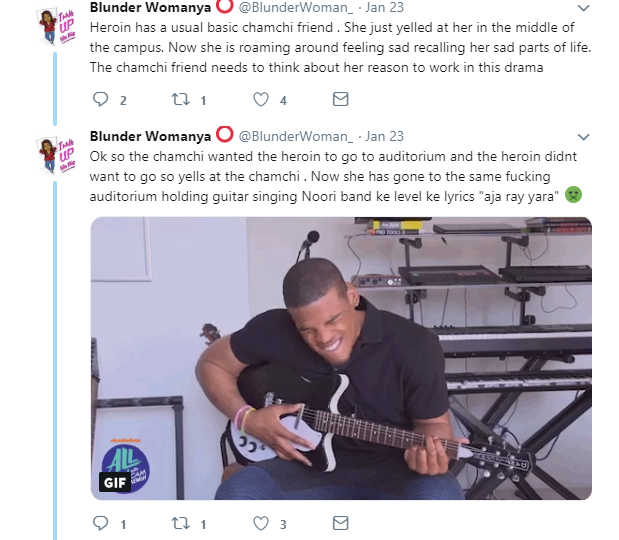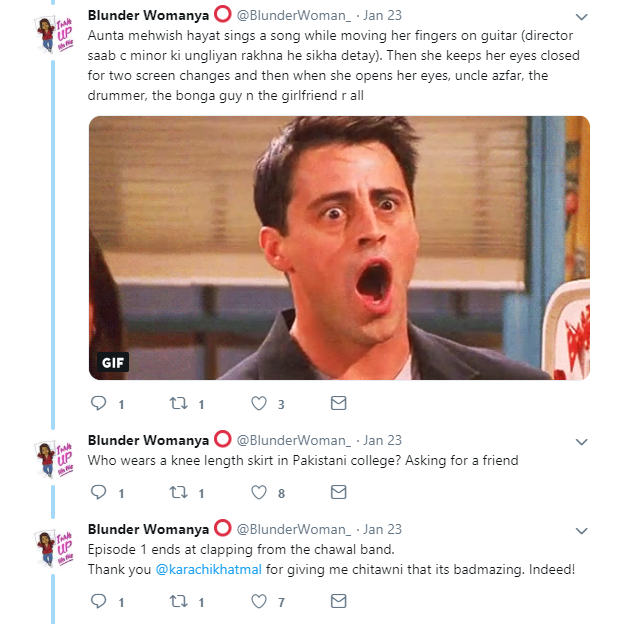 There was no way we weren't wasting 21 minutes of our lives to see how horrible could it be because khujli…
So, we forced our eyes through this torture called Enaaya and let me reassure you, we didn't have anything different to say.
Read: Vasay Chaudhry Resigned From The Cultural Advisory Council & It Is Important To Understand His Reasons
In our opinion, the problem lies with the director's behavior who took the viewers for granted and didn't make an earnest effort to create something new. One needs to understand that the content is changing even in mainstream media let alone the OTT platforms that offer freedom of expression to great extent. Also, there's ample amount of content out there for people's consumption, the reason why no content creator can afford to make such lazy mistakes as done by Wajahat Rauf in Enaaya.
We hope that the creative space given by digital media is utilized wisely next time someone decides to make a web-series; till then we may continue to look up to Irfan Junejo, Mooroo, Momina Muneer, Ukhano, Teeli and all the vine groups for quality content!