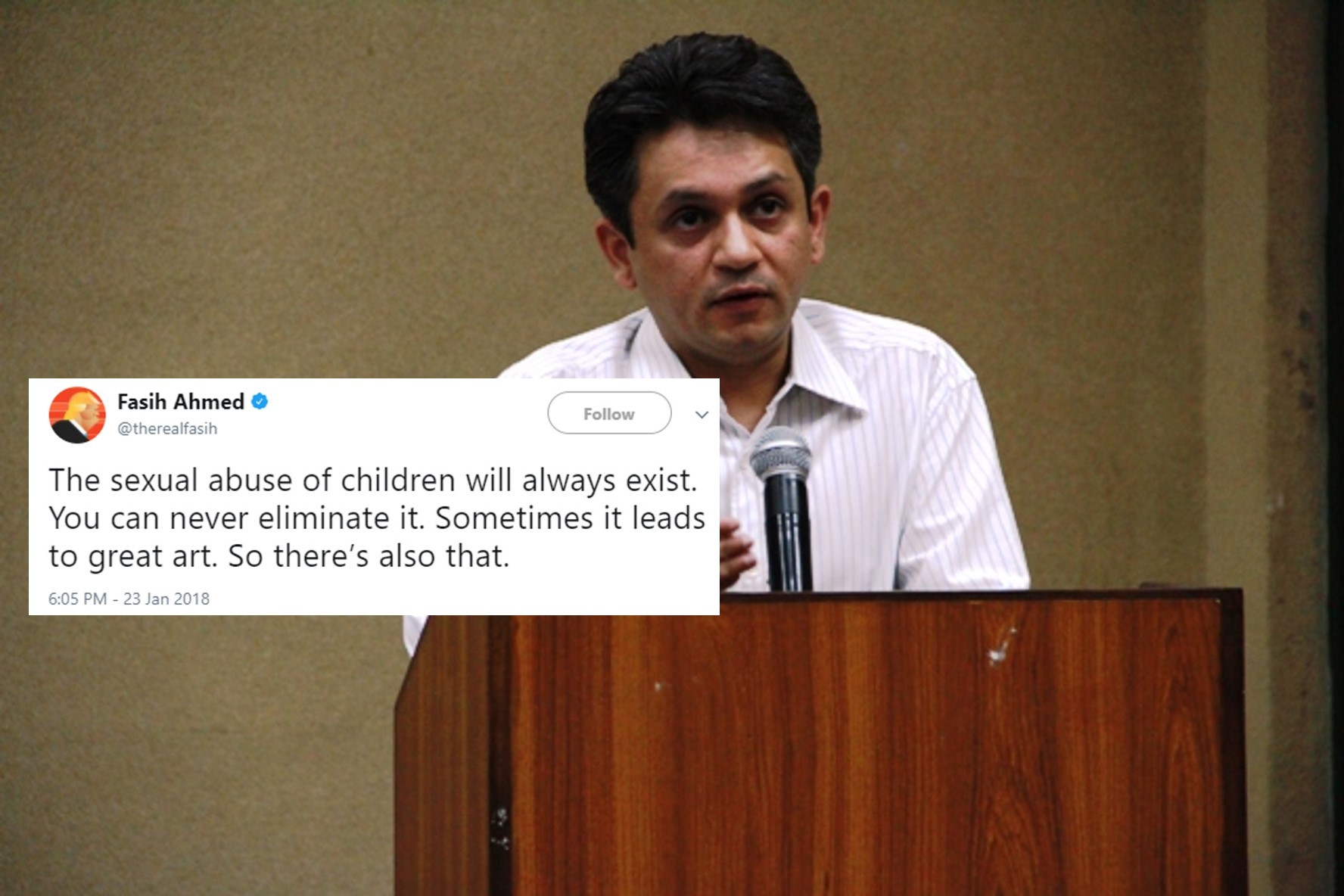 The editor of Newsweek Pakistan, Fasih Ahmed went on a tweeting spree last evening, cracking distasteful jokes about rape. His disturbing tweets referred to child sexual abuse in general and the Zainab murder case in particular.
https://twitter.com/therealfasih/status/955788565371392006
https://twitter.com/therealfasih/status/955783806790795264
Given that Fasih Ahmed is the editor of a reputable international publication and an active Twitterati with a sizable following, many thought his account had been hacked.
Also Read: Of Donald Trump, Twitter And The 'Do More' Mantra
Has Fasih Ahmed's account been hacked? Or is he having a bad trip/meltdown? Disturbing

— Talat Aslam (@titojourno) January 23, 2018
However, he confirmed that his account had not been hacked and that he himself was responsible for the disgraceful Twitter rant.
https://twitter.com/therealfasih/status/955860476998639617
Needless to say, Fasih's callous comments were hit back with vengeance by Twitterati, not only from Pakistan but across the world.
https://twitter.com/CRodriguezS20/status/955842781121056768
And @therealfasih @Newsweek @lhrlitfest this is a sick excuse of a mind. You are a disgrace Fasih Ahmed pic.twitter.com/VjXovl3NGK

— Mona Eltahawy (@monaeltahawy) January 23, 2018
This comment about child sexual abuse? He should be behind bars, let alone out of a job w/u.

"Fasih Ahmed – Verified account@therealfasih
4h ago
The sexual abuse of children will always exist. You can never eliminate it. Sometimes it leads to great art. So there's also that." https://t.co/XHHs09GwfZ

— TonyaJ (@TonyaJ) January 23, 2018
His utterly disgusting tweets making light of sexual violence and rape did not stop there. When confronted, he casually responded with this tweet.
https://twitter.com/therealfasih/status/955793861896437760
For reasons better known to them a few people came out to justify Fasih Ahmed's inexcusable behaviour.
Don't bother, he is messed up due to the system which is not supporting in getting justice and he has twitter as an outlet for his frustration. Most probably he is drunk when he tweeted this @therealfasih

— رجل الحديدي👤 (@artvizpak) January 23, 2018
Despite the handful of supporters, most people were in no mood to pardon Fasih Ahmed's insensitive, paedophilic tweets.
It's been more than 5 hours since Fasih Ahmed has been tweeting garbage and attacking everyone who disagrees with him. I doubt his account has been hacked. Let's stop making excuses and justifying his behavior.

— Maham Ali (@Mahamali05) January 23, 2018
Following the social media outcry, Newsweek (international) sent out a tweet distancing itself from Fasih Ahmed and his thoughts on rape.
Thanks for bringing this to our attention, @Alyssa_Milano. Recent tweets by Newsweek Pakistan editor @therealfasih do not represent the views of @Newsweek. We are reviewing our relationship with Newsweek Pakistan, which operates under a license agreement.

— Newsweek (@Newsweek) January 24, 2018
Last evening, Fasih did come up with an apology but it's too little, too late.
My tweets of yesterday were coming from anger, were poorly phrased, and misread. I'm sorry to have upset the people who have survived child abuse. I have been angry at the conspiracy of silence around this evil. #MeToo #StopChildAbuse

— fasih (@therealfasih) January 24, 2018
There is absolutely no room for people – no matter how high profile – who make a crime as gruesome as rape a subject of jokes.
Also Read: Mall Road Protest: Here Is What The Twitterati Had To Say!
There is nothing funny about anyone – man, woman, transgender person, adult or child – to be sexually violated. There is certainly no art in child sexual abuse and being raped by a high profile Hollywood celebrity does not make the episode any less criminal or traumatic.
From all of us at Bolo Jawan: shame on you, Fasih Ahmed!