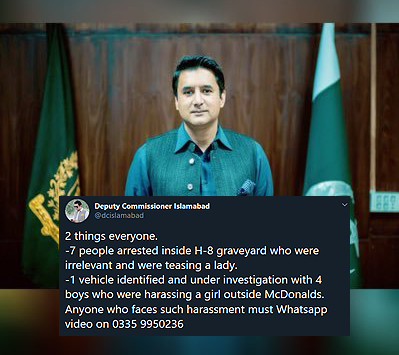 Deputy Commissioner (DC) Islamabad, Hamza Shafqaat, who is quite active on Twitter recently informed his followers that his department has introduced a Whatsapp number to report sexual harassment in the capital.
People can Whatsapp the videos and pictures of any incident of harassment to 0335 9950236 and the city police will take action against the harassers.
He regularly updates his 117K followers with major actions taken by his department for the benefit of the people.
In the same tweet, Muhammad Hamza Shafqaat also informed that seven people had been arrested from a graveyard in H-8, Islamabad after they were caught harassing a woman.
Also, four young men were caught harassing a girl near McDonalds, their vehicle was identified and the matter is now under investigation.
Twitterati appreciated the move by DC Islamabad Hamza Shafqaat
Read: This Is How Pakistanis Are Reacting To Imran Khan & His Langar Scheme
Read: Here's What Pakistanis Should Expect From PM Imran Khan's Visit To China
Read: This Is What We Know So Far About The Azadi March Of Maulana Fazlur Rehman
What do you think about this step – introducing a Whatsapp number to report harassment – by DC Islamabad Hamza Shafqaat?