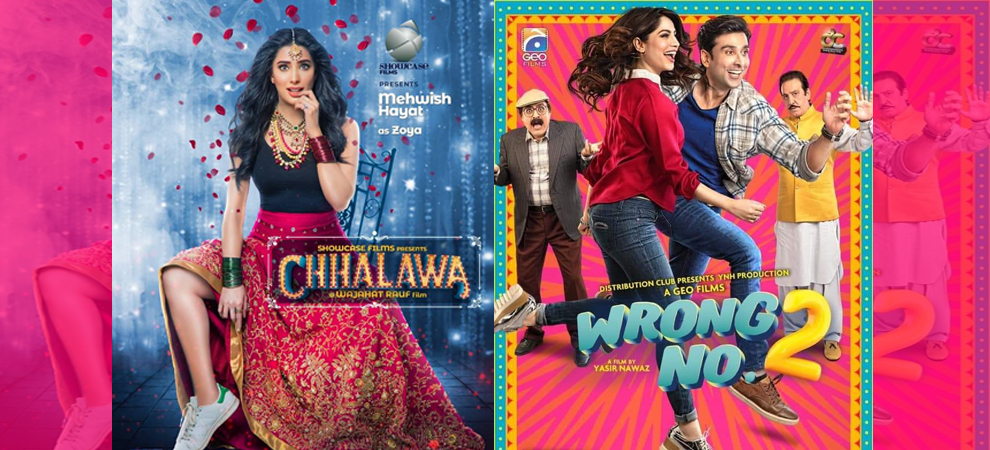 Pakistani cinema is still in a phase of revival, learning lessons through trial and error. This could be the reason why unlike last time, only two Pakistani films are clashing on Eid-ul-Fitr at the box office this year; Wajahat Rauf's Chhalawa and Yasir Nawaz's Wrong No. 2. Both are rom-com so the option of choosing on the basis of the genre goes out the window. But don't worry, here are our trailer reviews of both to help you with the decision!
Watch:Meera Gets Her Bling On In The New Baaji Trailer & We Have Never Been This Excited!
Chhalawa
The trailer of Chhalawa gives an impression that Wajahat Rauf has somehow gotten his hands on the formula of masala movies and is unwilling to let go. By the looks of the trailer, we can safely say that Chhalawa is another boy-fights-for-girl story.
The film has Mehwish Hayat and Azfar Rehman in the lead roles. It makes us think, it'd have been nice to see someone other than Humayun Saeed or Azfar Rehman paired against the actress for a change.
Read:World Cup 2019: Malala Yousufzai Trolls India At The 60-Second Challenge Of Gully Cricket
So why should you watch Chhalawa? Wajahat Rauf's films are known for witty dialogues and being a pure entertainer; the only reason why you should buy tickets to this film.
Wrong No. 2
We cannot begin to tell what all is wrong with the trailer of Wrong No. 2. Featuring Neelum Munir and Sami Khan as the leading couple, the trailer of Wrong No. 2 is disappointing for it gives away the whole plot, including the climax.
Apart from this technical error, the story itself seems like a rip off and the jokes are a little inappropriate for a family to watch the film together. Like the prequel, Wrong No. 2 doesn't seem promising and so, you should watch it only if you're a big fan of someone from the cast.
Read:VIDEO ALERT: The New Junoon World Cup Anthem Is All About Celebrating Diversity & We're In LOVE With The Song Already!