After Rabi Pirzada and Shaheen Afridi, another celebrity, Samra Chaudhry has fallen victim to breach of privacy as a sexually explicit video – and by some accounts more than one – surfaced online.
In a month, this is the third time we have heard of such a heinous breach of privacy and according to Gulf News, a Lahore-based gang is involved in leaking private media of girls working in the entertainment industry by hacking their phones.
Read: Private Videos & Photos Of Rabi Pirzada Have Been Leaked Online & It's NOT Okay!
In light of this situation, TV actor Agha Ali and host and actor Mishi Khan took to social media to admonish girls from sharing their private videos. They asked young people to be careful to avoid falling victim to predators leaking private content online.
Morning show host, Mishi Khan, took to Twitter to advise girls not to share their private videos and photos with anyone be it their husband, fiance or a friend!
In a video message, she asked her followers to beware and not to trust anyone with their videos and photos as a gang is active in leaking the media online and blackmailing girls.
Agha Ali, famous TV actor reached out to his followers through his Instagram and advised girls to not share any private media with others to avoid finding themselves in any embarrassing situation.
In his InstaStory, he said that it is mere foolishness to share any private media with anyone as it can turn out to be used against you in the future.
Read: With Intimate Videos Of Shaheen Afridi & Rabi Pirzada Leaked In One Day, Sane Pakistanis Want To Know WTF Is Going On?!
Here is the screenshot of the message he posted on Instagram.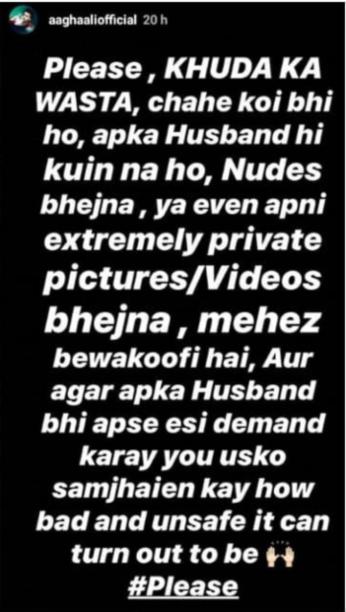 What do you have to say about the recent video leaks that have affected Rabi Pirzada, Shaheen Afridi and Samra Chaudhry? Share your views in the comments below.