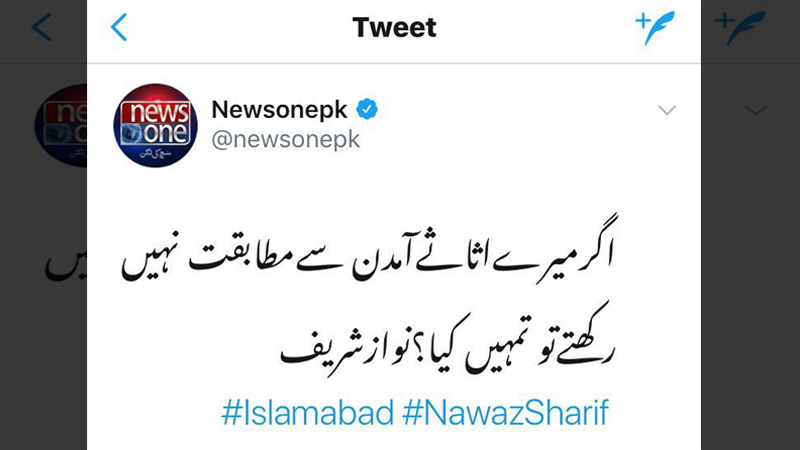 This for sure has not been a good year for PML-N and its party President, Nawaz Sharif. Earlier, this year the former Prime Minister was sacked from his office following the orders of Supreme Court and ever since some of his statements have not only gone viral but have also become a reason for trolling on Twitter.
Also Read: This Is How Pakistanis Are Venting Their Frustration Over The Faizabad Settlement
First it was #MujheKyunNikala which went viral and resulted in a major embarrassment for PML-N. Now its #TumheyKya that's earning a bad name for the party and its chief.
Also Read: Panama & Paradise: The Damning Impact Of Leaked Papers
Here is exactly what News One alongside some of the other leading TV channels reported via Twitter following the former premier's press conference yesterday.
اگرمیرےاثاثےآمدن سےمطابقت نہیں رکھتےتو تمہیں کیا؟نوازشریف#NawazSharif #Islamabad #Newsonepk

— Newsonepk (@newsonepk) November 28, 2017
The comment immediately made way for an insane amount of memes and tweets!
The social media humorists! O what would we do without these people! They're like unsung super heroes who have the power to make people laugh even in the bleakest of times.
😎😎Mah life, Mah Rules! goes federal#لوٹا_میں_نے_تو_تمہیں_کیا #تمہیں_کیا pic.twitter.com/f050wkdUGh

— salman khan (@AllPak_duck_boi) November 28, 2017
https://twitter.com/dr_KhanKPK/status/935605387432259585
I thought you loved me, but you never did.#تمہیں_کیا

— ℳîℓℓîøղ ᴅᴏʟʟᴀʀs ɢɪʀʟ (@HeyYouIdiot_) November 28, 2017
Mai poetry kro ya funny tweets.

— 🌺Bella🌺 (@SoulSweetyy) November 28, 2017
I stand by you brother!
Yes i am boy and i wear pink and red colour.
Tennu ki.#تمہیں_کیا

— Ahsan Shahzad (@Ahsanhoonmein) November 28, 2017
Does my toothpaste have namak? I must investigate!
Mere toothpaste mai namak ho ya nh #تمہیں_کیا

— ℳîℓℓîøղ ᴅᴏʟʟᴀʀs ɢɪʀʟ (@HeyYouIdiot_) November 28, 2017
Then don't, bhai! Why are you tweeting about it?
I can't live without you 😣

— 🌺Bella🌺 (@SoulSweetyy) November 28, 2017
Ingenious, I tell you! Simply ingenious!
https://twitter.com/EhmedUsman/status/935585553550016517
Oooo! Good point!
I have male friends or female

— NaDiya Ali Imran (@DiyaAli340) November 29, 2017
You don't? But why????
I don't like extra cheese.. #تمہیں_کیا

— SalMan Zahoor (@salmanzahoor72) November 29, 2017
Hahahahaha! Simply hilarious!
#تمہیں_کیا
I'm drinking water

— Faris (@Faris23100599) November 28, 2017
Ummmm…whatever you say!
میں سڑک کو آنے والی سڑک کہوں یا جانے والی #تمہیں_کیا

— Sajed (@saji_sajid01) November 28, 2017
Naha lo yaar! Hum par reham karo!
میں نہاوں یا نا نہاوں #تمہیں_کیا https://t.co/VWbz0OFPve

— 𝕃𝕠𝕣𝕕 𝔹𝕣𝕒𝕚𝕟𝕝𝕖𝕤𝕤™ (@Theomerbutt) November 28, 2017
Well, the funny types weren't the only ones tweeting away using this hashtag! There were also those who questioned the comment and were angry at what they had witnessed.
How this shamefull statement given by NS sab. Your prosecution is in accountability court and as you already disqualified by SC of Pakistan instead to give evidence/transaction of money that you transfer from Pak to london, you are blaming.#تمہیں_کیا pic.twitter.com/vE5A4dEb7B

— Rizwan khan (@RizwanKakar) November 28, 2017
https://twitter.com/AliHassanMNA/status/935556667890073600
Some believe, Mian Sahab's statement is an admission of guilt.
NS confessed to his corruption by saying #تمہیں_کیا whatever i do.

— Zarar Bahadar Khan (@zararbahadar) November 28, 2017
these words are slap on the face of pakistani nation and democracy
#تمہیں_کیا pic.twitter.com/9Mprqr6y1Q

— patriot (@Hashmigroups) November 29, 2017
Also Read: MQM-P And PSP's Love Hate Relationship Makes Way For Funny Memes On Twitter