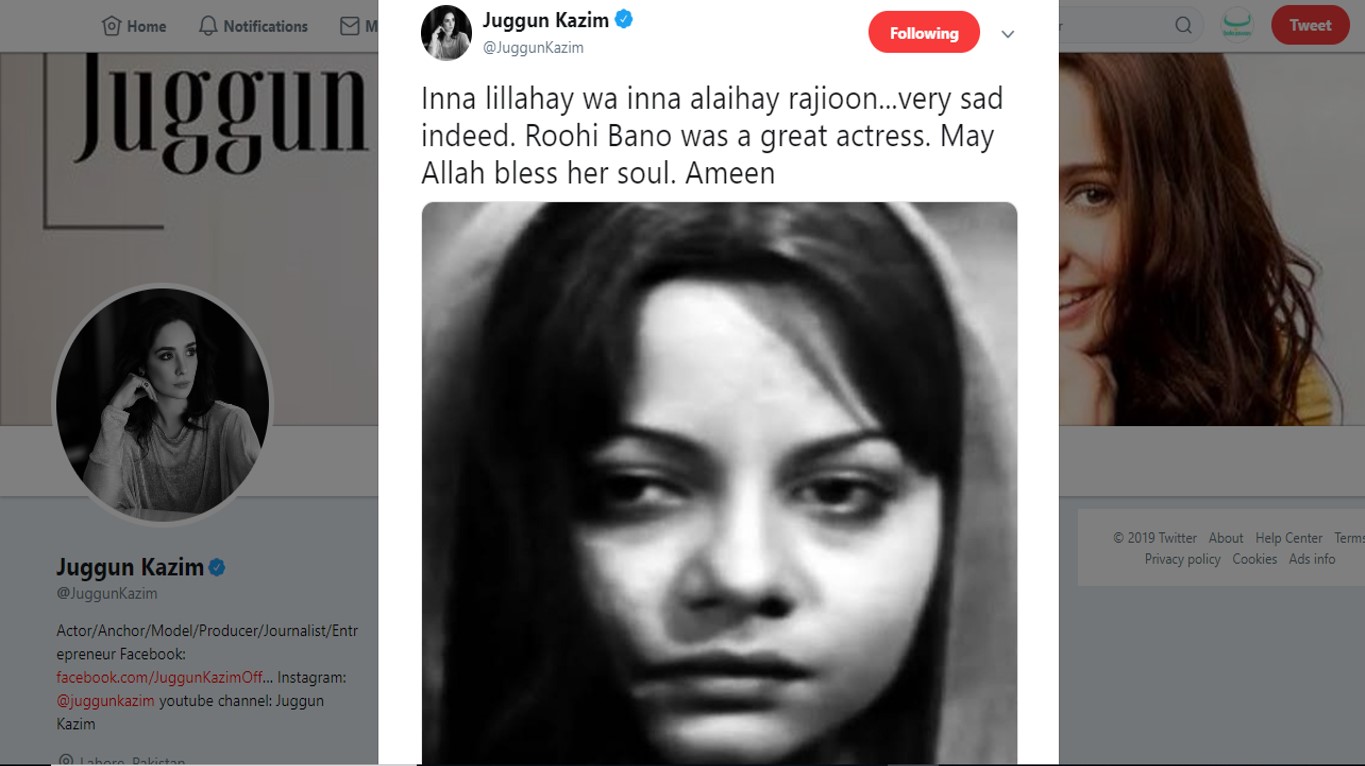 Here's our weekly list of celebrity tweets from Pakistan that you must not miss! Scroll down to find out what your favourite celebrities tweeted about this week!
Shaan was particularly Twitter savvy this week with a tirade of tweets demanding better governance.
I pray that one day the educational standards of govt schools become equal to private schools it's sad to see the ruins of public schools in the past health, education, and basic rights have become dependent on donors and NGOs

— Shaan Shahid (@mshaanshahid) January 26, 2019
Naeem ul Haque sent out a very unconstitutional tweet threatening the leader of opposition, Shehbaz Sharif with longer jail time if he didn't shut-up! Ummmm…badmashi much?
If Shahbaz wants to come to NA to abuse the PM and encourage his Chamchas to do the same then he should know that the production order is not meant for this . He must make a commitment to abide by the decisions of the Ethics Committee and the Rules of Business.

— Naeem ul Haque (@naeemul_haque) January 23, 2019
Freiha Altaf was every Pakistani celebrating Khadija Siddiqui's big win in Supreme Court!
Thrilled that Khatija Hussain's culprit is going to jail and she gets justice. Kudos to Supreme Court for overturning the unjust acquittal. #khadijasiddiqui @fifiharoon #beyondbeautiful@beyondbeauty360 pic.twitter.com/YMWouFBAOC

— Frieha Altaf (@FriehaAltaf) January 23, 2019
Ali Gul Pir defended skipper Sarfraz without belittling the wrongs of racism.
It's great that #SarfrazAhmed apologized. I can understand that us Pakistanis are so used to jokes abt skin color, weight or ethnicity and many ppl might not know what racism is. Therefore it's important to accept the flaw n evolve into better people #BeBetter #LearnFromSarfaraz

— Ali Gul Pir (@Aligulpir) January 26, 2019
Juggan Kazim joined Pakistanis to lament the loss of legendary actress, Rohi Bano. Rest in peace ma'am!
Inna lillahay wa inna alaihay rajioon…very sad indeed. Roohi Bano was a great actress. May Allah bless her soul. Ameen pic.twitter.com/uL3dX45CRp

— Juggun Kazim (@JuggunKazim) January 25, 2019
Farhan Saeed's love for Prime Minister Imran Khan continued with the singer cum actor endorsing the PM's mini budget to boost industrial activity.
Documenting the Pakistani economy is the most important thing right now, encouraging people to file their tax is a master stroke.Yesterday was a great step towards a better Pakistan, for its economy. @ImranKhanPTI may Allah be with you, we are praying and standing right behind.

— Farhan Saeed (@farhan_saeed) January 24, 2019
Mohib Mirza finally revealed the poster of his next movie and it comes with a curious name: Ishrat: Made in China!
#mohibmirza #moretocome #staytuned #FeatureFilm #inproduction #MadeInChina #ishrat pic.twitter.com/cmxDDw1QgI

— Mohib Mirza (@mohibmirza) January 20, 2019
Meera and Ali Kazmi's exchange of food during a recently held award function was actually adorable!
#baajithefilm coming soon best couple super talented perfection King #saqibmilk first film with amazing star cast Congrats team #alikazmi very handsome pic.twitter.com/oxN4lcun1v

— Meera (@TheMeeraJee) January 25, 2019
German Ambassador to Pakistan, Martin Kobler sent good vibes to Pakistan's women cricket team and Sana Mir could not have been happier!
Thanks a lot from me and the Pakistan https://t.co/C9faWdP6NI

— Sana Mir ثناء میر (@mir_sana05) January 26, 2019
Meesha Shafi tweeted after a while to announce Aurat March 2019. GO WOMEN!
#AuratMarch2019 #AuratMarchLahore #HumAurtein #Barabar pic.twitter.com/JuTMxGACuT

— MEESHA SHAFI (@itsmeeshashafi) January 23, 2019
Have more celebrity tweets to add? Share them in the comments below!