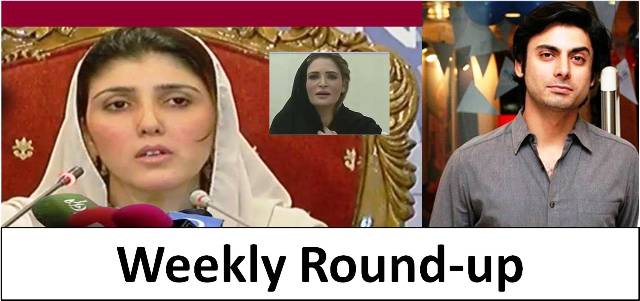 Here's a quick look at the news and debates that kept Pakistan busy this week.
An Abundance of Ayesha's
The week started with Ayesha Gulalai's press conference announcing her departure from Pakistan Tehreek-i-Insaf (PTI). Nothing extraordinary for an election year but what kept tongues wagging and social media buzzing was Gulalai's claim that PTI Chairperson, Imran Khan had been sending her lewd text messages and so, more than Pervez Khattak's nepotism, it was sexual harassment by Khan that forced her to take this extreme decision.
Pakistan was still busy tweeting about Ayesha Gulalai when another Ayesha came out of no where and stole all the limelight. This time, it was one, Ayesha Ahad, (ex)wife of Chief Minister Punjab's son, Hamza Shahbaz. In her press conference, she claimed mistreatment by Hamza and being terrorized by his goons. She now wants a parliamentary committee to investigate Hamza Shahbaz and his family's mistreatment of her.
Election years are always messy but this one has taken scandal to a whole new level even before it's formally begun!
Columnist, Nadeem Farooq Paracha's tweet on this abundance-of-Ayeshas scenario is an apt pun!
A queue of Ayeshas to come before next election. pic.twitter.com/tS40MCquDK

— Nadeem Farooq Paracha (@NadeemfParacha) August 5, 2017
A Beardless Fawad Khan 
If there's one guy both girls and boys in the subcontinent love to swoon over, it's Fawad Khan. South Asian teenagers seem to inhale and exhale only with Khan's changing fashion statements.
Also Read: 3 Bands that Swept Us off Our Feet in the 1st Episode of Pepsi Battle of the Bands
After sporting a messy beard for almost a year, Fawad Khan finally bid farewell to it this week and somehow his beard-less avatar became a viral trend; talk about fame goals!
These Twitter reaction are enough to prove our point.
So basically this is #FawadKhan's look for the second song, can u imagine guys 😍😍 pic.twitter.com/QAzQRZ28rD

— Hasnaa ~ حسناء (@HASNAAmoon) July 30, 2017
#Fawadkhan on the set of battle of the bands 😍😍😍😍😍😘😘😘 pic.twitter.com/u3DApPqpz0

— LuvisFk❤😍 (@Fawadfan213) July 30, 2017
#PepsiBatteOfTheBands is back guys and this is basically us through out the first episode.#FawadKhan pic.twitter.com/wgrttsX4Vs

— MangoBaaz (@mangobaaz) July 30, 2017
Deep-Rooted Misogyny in Our Society
The case of Ayesha Gulalai once again brought to light the sadistic reality of rampant misogyny in our society. Political uproar and a tirade of statements from all the major parties was an expected aftermath of Gulalai's conference. However, what no one imagined was how it would all degenerate so quickly into a discussion that is essentially a loud shut-up call for any woman who ever dared to speak up against harassment.
What was particularly disturbing was that pictures of Gulalai's sister and Pakistan's Squash star, Maria Toorpakai wearing sportswear went viral for all the wrong reasons. Opponents of Gulalai questioned her sister's character for wearing clothes that did not comply with their moral standards. The sad part is that Maria Toorpakai is Pakistan's pride given that she is the first Pakistani woman to be appointed as a member of the International Olympic Committee's (IOC) Women in Sports Commission.
Also Read: 3 Pakistani Sportswomen Who Deserve Our Attention
Thankfully, many sensible voices have come to her support and Toorpakai herself gave it back to the haters with this simple, but powerful post: