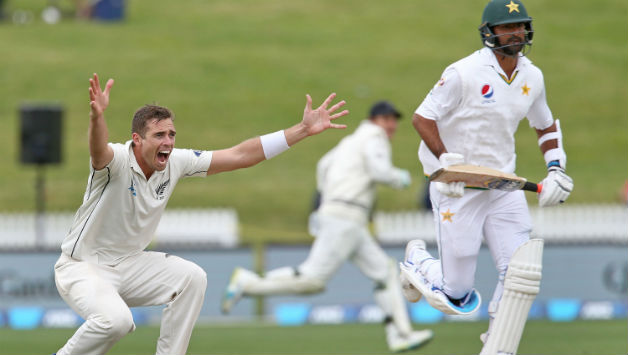 You don't really need to be Einstein to work out that the tour of Team Green to New Zealand has turned out to be horrific to say the least.
The disastrous campaign began with a washed out practice match that was followed by one of the worst earthquakes in the region. The tour has resulted in exposing the poor itinerary management of the Pakistan Cricket Board (PCB) and has also revealed the vulnerability of boys in green outside of Asian conditions. However, despite the debacle there are certain positive signs that can go a long way in assisting the national team during their tour to Australia.
I write this article to discuss the top 3 positive and negative outcomes from the recently concluded tour to New Zealand and argue that Team Green needs to be more mindful of what it has learnt from the outing in order to put up a fight against the Aussies.
3. The Proficient Top Order v/s a Clueless Middle Order
Positive
Pakistan's top order has historically struggled during overseas tours. However, the current lot (comprising of Azhar Ali, Sami Aslam and Babar Azam) has competed well to deliver in pretty difficult conditions. If the trend continues in Australia (where batting conditions should be slightly better) Pakistan would have a fair chance of posting decent totals on the scoreboard.
Negative
Pakistan's middle order batsmen, particularly Younis Khan and Asad Shafiq looked clueless throughout the campaign. Realistically speaking, on bouncy Australian tracks Pakistan has little or no chance of winning the Test series if at least one of them does not fire on a regular basis.
2. Quality Bowling v/s Miserable Fielding
Positive
Although, there were no stand out performances from the bowlers still, Muhammad Amir and Sohail Khan did bowl pretty decently. Amir it seems is beginning to swing it both ways with the new bowl again. Yasir Shah however, could not leave behind an impression owing to the nature of wickets. That said, Australia would offer a different ball game where all three of them should come in handy.
Negative
Even in favorable conditions Amir has struggled to swing the old ball both ways. Sohail Khan on the other hand owing to his fitness seems half the bowler during his second and third spells. Therefore, it is important to make inroads early and for that both pace men require support from the fielders, particularly, the ones positioned in the slip cordon. However, Pakistan's fielding has been pretty mediocre throughout the season and there is little hope of a positive result or two if Pakistan as a fielding unit does not pull up its socks!
To make matters worse the likes of Wahab Riaz and Rahat Ali seem prone to bowling a bad ball every over and take way too long to bowl out their six deliveries; something that resulted in Azhar being warned and Misbah being banned!
1. Better Conditions v/s Fitness
Positive
A green top pitch has always presented a nightmarish scenario for the Asian teams. Therefore, Pakistan's loss to Kiwis is neither surprising nor unprecedented. Having weathered the storm Pakistan should now be better prepared to deal with the challenge in Australia where despite bounce wickets it shouldn't be as difficult as it was in New Zealand.
Negative
New Zealand has small grounds whereas Australian grounds are among the biggest in the world. The fieldsmen and the pace men in particular, from the national side seem to have fitness issues which should make it extremely difficult for them to compete with an Aussie side that is super fit and that following an embarrassing defeat to South Africa is all hungry and determined to win back the lost glory.
Conclusion
A match-up between a roughed up Team Green Pakistani versus a hurt Australian unit promises to be an extremely interesting contest. However, not much should be expected if the touring side doesn't learn and improve fast in all three facets of the game.