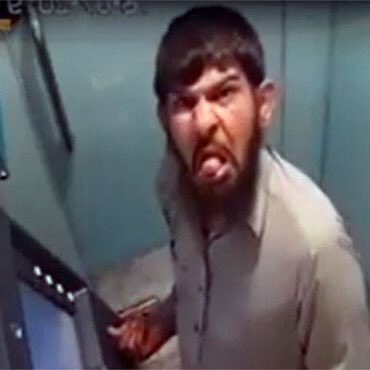 A CCTV footage of a robber making funny faces while stealing an ATM card went viral last week.
The robbery actually took place last month but the police identified the thief as Salahuddin Ayubi after the video went viral.
The incident occurred in Rahim Yar Khan. A man inserted his ATM but the machine captured it and he was not able to withdraw money. In the CCTV footage it can be seen that he waited for the card to be ejected but when it did not, he went outside.
Read: The Human Angle: 8 Year Old Boy Tortured By Police In Lahore
Meanwhile, a thief came in and opened the ATM and took the card. He withdrew around 60-64k. Ayubi looked fearless as he did not cover his face.. He even made funny faces while looking directly at the camera.
The Punjab police arrested him and the video of Ayubi being interrogated also surfaced.
The police asked, "Where did you learn those tricks?"
Ayubi replied, "Where do police learn to kill?"
And ironically Salahuddin Ayubi died in police custody yesterday.
People turned to social media to express their sentiments regarding this heart wrenching incident.
People are also alleging that he was the victim of police brutality and thus the hashtag police brutality started trending on Twitter.
Pakistanis also criticized Imran Khan for failing to create "Madina ki Riyasat."
Read: Maryam Nawaz Compared Former Egyptian President Mohammad Morsi's Death In Police Custody To Nawaz Sharif's Situation & People Had All Sorts Of Reactions
The police claimed that he died due to heart attack. His body has been sent for postmortem.