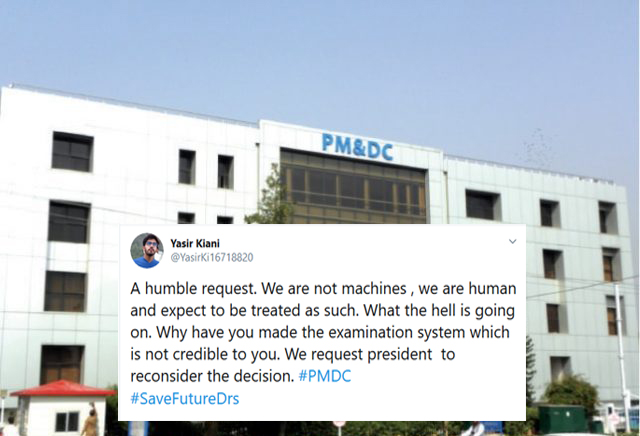 Pakistan Medical and Dental Council (PMDC) was dissolved by President Arif Alvi to pave way for Pakistan Medial Commission (PMC).
Pakistan Medical Commission Ordinance, 2019
The 'Pakistan Medical Commission Ordinance, 2019' introduced by the President to dissolve PMDC says that it is to improve the standard of medical education in the country.
NLE Exam
Under section 19 of the ordinance, students of Bachelor of Medicine and Bachelor of Surgery (MBBS) and Bachelor of Dental Surgery (BDS) graduating after March 2020 will have to clear the National licensing Exam (NLE) to start practice.
Before that, only foreign students had to give the exam.
Pakistan Medial Commission
The new PMC will include Medical and Dental Council, The National Medical and Dental Academic Board and The National Medical Authority.
A uniform standard of medical education and training will be introduced under PMC.
Read: An Honest Doctor From Sheikhupura Returned Rs. 3.5 Million To Punjab Government & You Need To Know The Shocking Reason Why!
The new medical commission is expected to start operations within a week. Ministry of National Health Services (NHS) took the possession of the PMDC building and terminated 220 employees.
"World has progressed but we are still following decades old methods for our medical education. We need to liberalize our medical education and for that practices of other countries would be followed."

– Special Assistant to the Prime Minister on Health Dr Zafar Mirza
Controversy
The controversy emerged because of the autonomy given by this ordinance to private medical colleges.
The admission in a private college would be in accordance with the criteria of that college and not according to the policy of provincial governments. The private colleges can also take any additional entry tests or impose any other conditions.
Previously, PMDC used to decide the number of faculty members but now the private colleges can decide themselves. Also, they will now be able to decide the fees themselves.
Criticism
PML-N spokesperson Maryam Aurangzeb criticized the ordinance, saying that her party had rejected it.
The general secretary of the Pakistan Medical Association, Lahore, Dr Shahid Malik, said that the new ordinance would destroy medical institutions of the country.
Medical students and doctors took to Twitter to criticize this move by PTI government and termed the NLE exam as an additional burden.