For the past couple of years, Pakistani stars have been celebrating Halloween to the fullest. They dress up in the most creative outfits, wear makeup to decorate their faces similar to the characters they have copied to mark the occasion and let me tell you, they look epic.
So, looking at the Halloween costumes of 2021, we have compiled a list of the three celebs that we liked the most.
1. Eman Suleman
Model and actress, Eman Suleman and her husband, Jamil Haider dressed up as the "Wow, grape" meme, and it was so on point that I can't even…
Read: This Girl's Parents Dressed As Allan Fakir & Noor Jehan For Halloween And We're Not Crying, You're Crying!
If you don't know what the meme was, here's a little background for you. A video of an event at Pakistan International School in Jeddah inspired the Wow, GRAPE meme.  Senator Seher Kamran, who was most likely the principal of the school at the time, asked children how they planned to vow their loyalty to Pakistan when they grew up. Their responses cracked everyone up. And, another oddity in the clip was the Senator's comical cheering for the kids, which made it sound like the phrase "Wow, grape." So, that's how it all happened.
2. Momina Mustehsan
Momina Mustehsan, who is known for her incredible singing abilities, turned heads with her stunning Halloween costume, who opted for an entirely different look for the occasion.
She dressed up like a possessed soul, who finished her Halloween costume with a painted outline of wounds and injuries.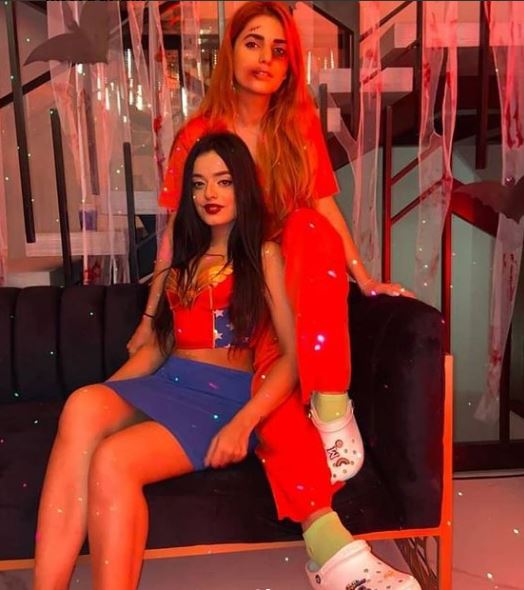 And it looked so dramatic and real, so kudos for that!
3. Ushna Shah
Ushna Shah recently uploaded some stunning photos of herself on her official Instagram account to celebrate Halloween. She was dressed in a sleeveless white gown with a lot of embellishment, replicating the Hollywood starlet, Marilyn Monroe.
She captioned her post as, "Happy Birthday, Mr President And Happy Halloween!"
We have to say that Ushna put in a lot of effort to bring the look together and she looked absolutely stunning.
How much would you rate the Pakistani showbiz stars based on their Halloween outfits? Share in the comments.