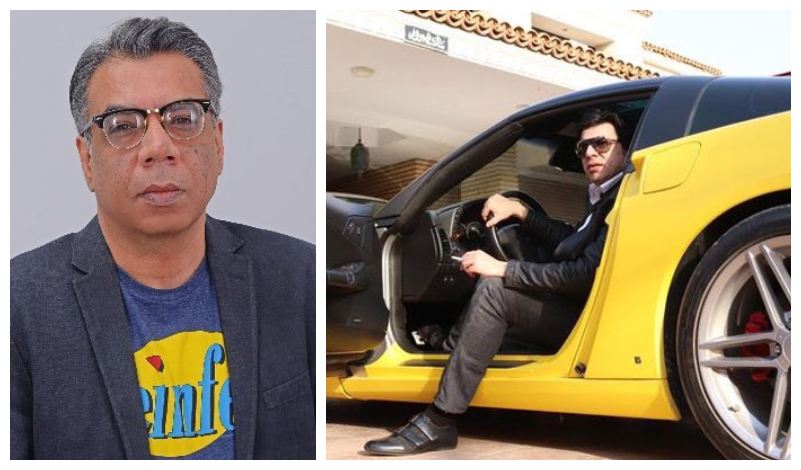 PTI MNA and Federal Minister for Water Resources, Faisal Vawda is – among other expensive interests – known to be a car enthusiast.
Remember when last year he was trolled after pictures of him stepping out of a bright yellow sports car started doing rounds on social media?!
Well, here's a quick throwback!
Recently, Nadeem Farooq Paracha took to Twitter to poke fun at Faisal Vawda.
The journalist shared Vawda's picture in his infamous yellow sports car and wrote, "Oye, Corona, I'm here … in my yellow Corvette."
Read: From FX To Porsche, Shaan Gave A Befitting Reply To Internet Trolls
And of course, Twitterati joined Paracha to have some fun with his Tweet!
Read: Imran Khan Asked The World For Debt Relief Amid COVID-19 But Some Journalists Were Only Interested In His Tracksuit
Read: Twitterati School Kamran Khan As He Asks Government For Leniency In The Lockdown
But netizens were not the only ones who had fun replying to the journalist's tweet. Faisal Vawda himself joined in, giving "corona" – or was it Paracha? – an invitation to see his car collection.
He wrote, "… I've a couple more too … Come I'll show you."
Read: These Coronavirus Statistics By Sabir Shakir Will Keep You Laughing The Whole Day!
And people just loved how the politician threw the ball back into Nadeem Farooq Paracha's court!
Read: This Is How Daraz Stole The Show After Faisal Vawda's Boot Gimmick
Read: Two Recent Lockdown Violations By Govt. Representatives In Peshawar Will Make You Very Upset
What are your thoughts on this Twitter exchange between Faisal Vawda and Nadeem Farooq Paracha? Tell us in the comments below!