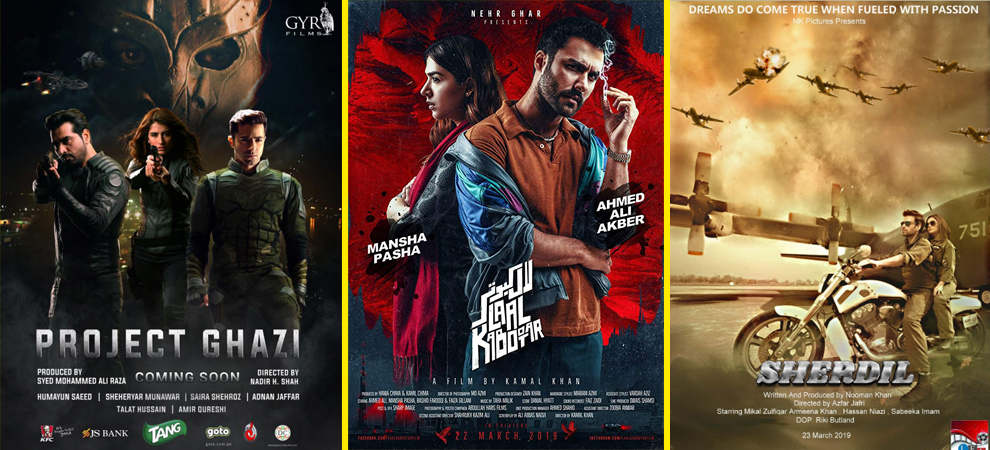 Like it happened on Eid-ul-Azha last year, three Pakistani films are all set to release on the same date this year that is the 22nd of March. Trailers of Laal Kabootar and Project Ghazi were revealed a few days ago while the Sherdil teaser graced our screen just 18 hours ago.
Read: Film Review: Gully Boy Will Win You Over!
Here's what to expect from the three Pakistani films that are special in their own way!
1. Project Ghazi
https://www.youtube.com/watch?v=0iWlp0OvOpY
For those of you who don't know, Project Ghazi was originally slated to release in July 2017. A trailer was released back then, promotions had taken place but the film was shelved right after the premier due to major edit and sound issues. From that point onwards, it took the filmmakers one and a half year to resolve all these technical issues and now the new trailer is here. 
Starring Humayun Saeed, Sheheryar Munawar, Syra Shahroz, Adnan Jafri, Talat Hussain, and Amir Qureshi, Project Ghazi is Pakistan's first superhero action movie and so, expectations are running high. 
Read: Mehwish Hayat's Web-series Enaaya May Give You Eye Ulcer, It's That BAD!
VFX used in the film is also another reason why we're looking forward to the project. If Project Ghazi does well on the box office, it will definitely open a whole new genre for the filmmakers to experiment with in Pakistan entertainment industry. 
However, if the film fails to impress, then it will become difficult for the star cast to get these marks off their career chart any sooner. What is most likely to happen, only 22nd March will tell!
2. Laal Kabootar
With actors like Mansha Pasha and Ahmed Ali Akbar in the lead cast, Laal Kabootar is receiving big love from the cinegoers for its intriguing trailer, a ts rustic portrayal of Karachi and off course whatever little acting that we got to see in the trailers.
The storyline looks novel; the soundtracks are not your run-of-the-mill music that we are used to in films and most importantly, the aesthetics of the torn city of Karachi are captivating, to say the least.  
Read: Have You Heard About The Legal Battle Between Bilal Lashari & Maula Jatt's Original Makers? We Have All The Deets!
Top it off with the effortless actors like Mansha and Ahmed Ali and you might get the best Pakistani film of the year. Are we getting ahead of ourselves, only time will tell! 
3. Sherdil
The teaser of another movie to be released on the 22nd of March, Sherdil, was revealed yesterday. From what we know so far about this Azfar Jafri directorial is that the cast includes Mikaal Zulfiqar, Armeena Rana Khan, Hassan Niazi & Sabeeka Imam and the plot revolves around the role of Pakistan Airforce during Indo-Pak 1965 war.
While we couldn't see any of the female leads in the teaser, we did get the old cliched feeling from Sherdil that most of us got from Parwaaz Hai Junoon.
If Sherdil doesn't offer something new to the narrative, chances are that people will go back home uninspired which is exactly the opposite of what such films intend to achieve.
Read: Film Review: I Saw Simmba And I Want My Money BACK!
Lastly, while we wish that all three films do well at the box office, there's no denying the fact that such clashes only reduce the earnings that would have been much greater had they released on different dates.
Thus, Pakistani filmmakers direly need to schedule their films in a manner that there are no clashes so they don't end up eating each others business while the audience has to wait long intervals till the next Pakistani film releases.