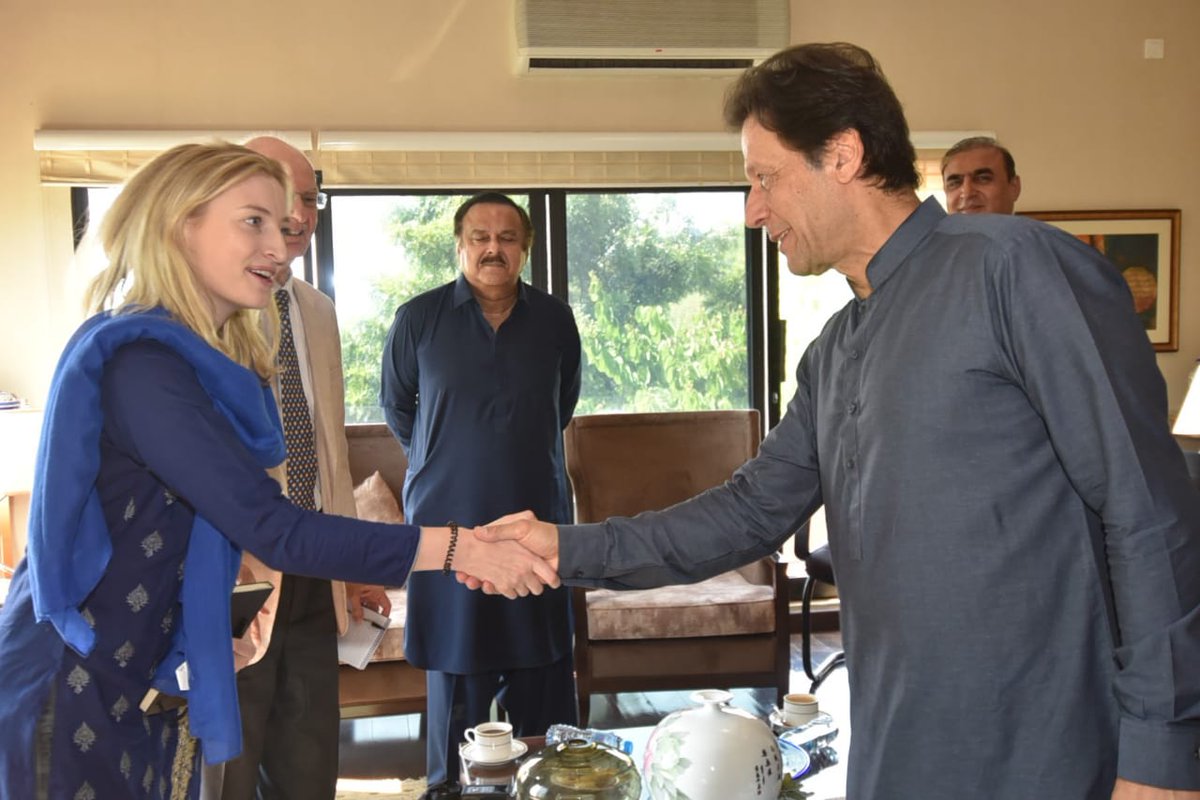 Prime Minister Imran Khan's interview with the Middle East Eye has created quite a stir.
Going by what the online news outlet published, PM Khan told  the foreign journalists that the government was "desperate" for financial assistance and could not afford to offend the Saudis over  journalist, Jamal Khashoggi's murder.
Read: 3 Important Stories That Got Lost Amidst The Unnecessary Shireen Mazari-Momina Mustehsan Twitter Beef
In his interview, PM Khan also shared that Pakistan was facing the "worst debt crises" in its history and his government had little choice but to maintain cordial relations with the Saudi crown.
Read: Everything You Need To Know About The Missing Saudi Journalist Jamal Khashoggi!
Since Khan's pre-election campaign largely emphasized on breaking the metaphorical begging bowl once and for all, his statements to the Middle East Eye became the subject of scathing criticism by Pakistani citizens and intelligentsia. The government's stance to remain silent on the brutal murder of Khashoggi also came under fire.
Begging bowl in hand. At a time when we should be boycotting Saudi Barbaria, we've lost whatever little moral sense we had. Would have been exactly the same under Nawaz Sharif as well unfortunately. When it comes to Saudi Barbaria, our leaders just can't say no.. pathetic! https://t.co/TVdjVo7dnw

— Imaan Zainab Mazari-Hazir (@ImaanZHazir) October 23, 2018
To wazeer e azam sahib ko sharam nahi aayi jb Middle East Eye ko keh rahay thay ke ham majboor hain hamai bheek do… Baat krty ho yar….#ImranKhan #ImranYouHaveFailed https://t.co/Ui9CRZNcDc

— Ali Salman Andani (@an_alisalman) October 23, 2018
The fact that the Middle East Eye article began with "Newly installed Pakistani Prime Minister Imran Khan…" also fueled jest.
یہ باہر والوں کو بھی پتا ہے نیولی انسٹالڈ 🙄
Newly installed Pakistani Prime Minister Imran Khan has told Middle East Eye that his country must continue to prioritise good relations with Saudi Arabia despite the killing of Jamal Khashoggi because of its۔۔۔https://t.co/d1g2cGLIRz

— 𓅃 ترجمان (@desichawal) October 23, 2018
Following the unfavourable public reaction, a number of television channels also aired shows focusing on PM's interview with the Middle East Eye and the possible fall-out that it can have on Pakistan's image.
Soon after, the Special Assistant to Prime Minister, Naeem-ul-Haq took to Twitter to label the entire episode as "fake news."
PM did not give any interview. A delegation of foreigners touring Pakistan called on him and were told about the state of affairs we are faced with. Why can't senior journalists like you get our version.

— Naeem ul Haque (@naeemul_haque) October 23, 2018
However, since Middle East Eye is considered a highly credible media entity, the authenticity of Naeem-ul-Haq's statement was questioned by Twitterati.
Read: From Allahabad To Prayagraj: Everything You Need To Know About India's Obsession With Renaming Its Cities
This led him to refine his earlier choice of words. While he had previously labelled all the foreigners present at the meeting as  tourists, he later tweeted that they were accompanying John Osborne (a cricket writer) and the discussion was informal.
No interview was requested or granted. John Osborne a cricket writer and friend of PM came to present his new book and brought with him three other people whom we did not know. What ensued was a private conversation .

— Naeem ul Haque (@naeemul_haque) October 23, 2018
Naeem-ul-Haq's tweets did not go down well with Amanda Coakley, an Irish journalist who was part of the delegation of foreign journalists meeting with Premier Khan.
In her tweets, Amanda stated that she was part of a three member UK media delegation and that an interview with the Pakistani Prime Minister was on the agenda from day one.
She further shared that the Prime Minister was well aware of the fact that all the discussion was on the record since there were two recording devices that were placed next to him during the meeting.
@naeemul_haque @mehreenzahra @GulBukhari @AliaChughtai I beg to differ Mr ul Haque. On Sunday 14th three British journalists and myself an Irish journalist went to Pak as part of a UK Media Delegation and were offered an interview with PM Khan. https://t.co/yxlMZxzRNK

— Amanda Coakley (@amandamcoakley) October 23, 2018
All journalists present recorded the interview on different devices, and everyone in the room would have seen this. Two devices were on a little table next to the PM. There was no mention of anything being off the record.

— Amanda Coakley (@amandamcoakley) October 23, 2018
On Saturday 20th we met the PM and conducted an on-the-record interview which lasted 1 hour and 12 minutes. You were in attendance as was Mr Fawad Chaudhry and Mr Sarfraz Hussain, picture attached. pic.twitter.com/kNg1heD1oM

— Amanda Coakley (@amandamcoakley) October 23, 2018
Naeem-ul-Haq in turn tweeted a rather vague response that was neither a counter-question nor a clarification.
Kindly advise who offered the interview. Also it was our understanding that John Osborne was coming to present his book along with some others. Neither the Information Minister nor the Special Assistant for media nor myself knew anything about the interview.

— Naeem ul Haque (@naeemul_haque) October 23, 2018
Quite frankly, there was entirely no need for the government to confront the Middle East Eye as there is nothing particularly scandalous if one reads through the entire interview.
True, that the government had made lofty promises of ending Pakistan's dependence on foreign debt and has so far not been able to keep its end of the bargain; however refuting the existence of the interview would not change the country's current economic reality or the fact that the government has actively been seeking Saudi financial support.
The government would have been much better off staying silent, allowing its critics to find a fresh subject to bicker about rather than unnecessarily slinging mud at a credible foreign publication.