Kim Kardashian's look at the Met Gala 2021 spawned a flurry of memes on Twitter. The netizens couldn't help but chuckle when they saw Kim K dressed in an outfit designed by Balenciaga that covered her from head to toe. "The Keeping Up With The Kardashians" star tied her hair in a ponytail and completed her look with matching heels. Tbh, not even a tiny bit of skin was showing and her eyes were covered, too, so how could people stop themselves, right?
This photo says it all…
Read: 10 Hilarious Memes To Come Out Of Cristiano Ronaldo's Return To Manchester United
Anyhow, this was a moment for Twitter to seize, so here's what it had to say:
A user compared her look with her 'sleep paralysis demon,' and that's kinda savage!
While others had some interesting questions to ask.
OH MY GOSH, some people just went all ruthless with their memes.
Whereas, there were some who compared her dress to a bathroom sign!
Read: Ranveer Singh Generates A Splash Of Memes With Gucci Attire
"#KimKardashian reprising her original form as a Dementor," wrote a user.
And then there were some endless comparisons, again…
Kim Kardashian looking like a whole dementor #MetGala2021 pic.twitter.com/g6LM0w3LhH

— iconic tweets (@advicetexts) September 14, 2021
Oh well, it turns out Kim's ex-husband, Kanye West, helped her get this dress together. He was the one who actually introduced her to Demna – a creative director at Balenciaga. Even though West was the one behind this dress, he didn't attend the event himself.
There are several international publications that have reported that her look is a "new subculture and fashion statement. No logo, no face, but everyone knows it's her."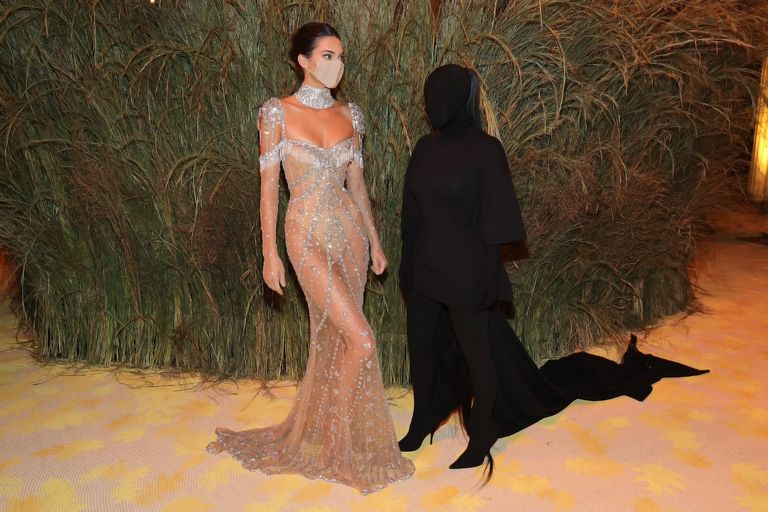 And, guess what, she even wore makeup under that dress. Her friend and makeup artist, Mario Dedivanovic posted a BTS of the products he used on Kim, and I'm wondering if it was worth it! 😉
Have more Kim K's met gala 2021 memes to add? Share in the comments.