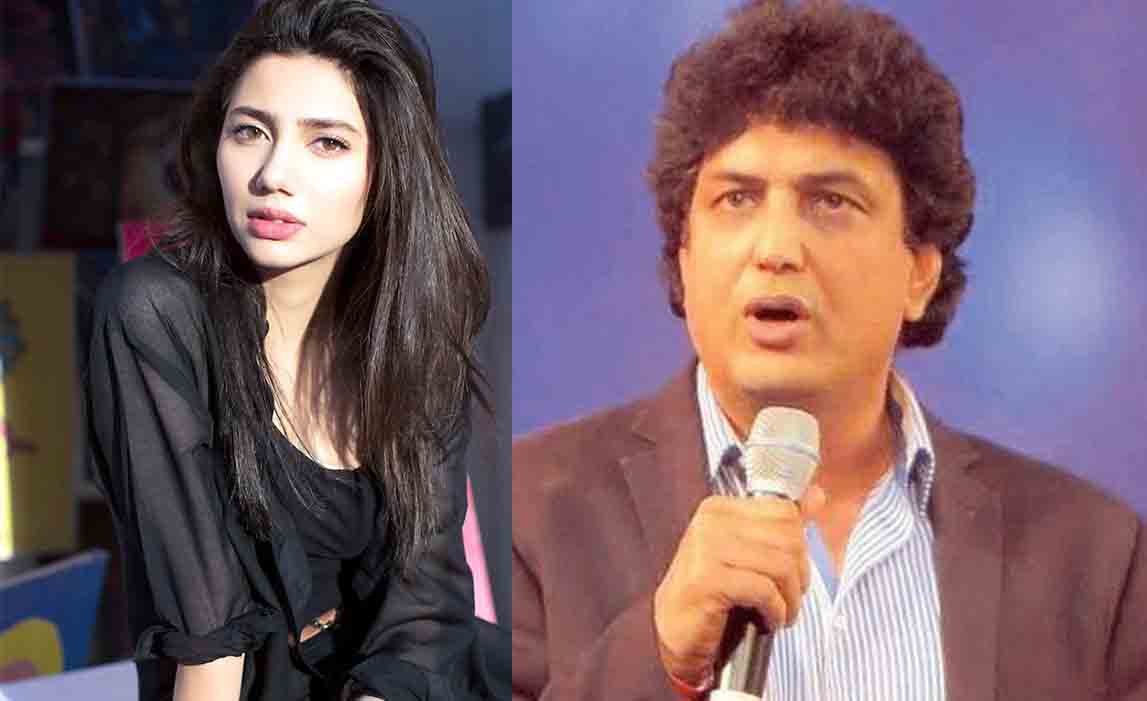 The Pakistani side of Twitter seems to have gone at war with playwright, Khalil-ur-Rehman Qamar after he hurled abuses at Marvi Sirmed on NEO TV's live broadcast.
And while it is very unlike Pakistani media fraternity to openly challenge an influential man in its ranks, it seems for once, at least a handful of celebrities have decided to grow a spine.
Read: Khalil-ur-Rehman Qamar Abused Marvi Sirmed On Live Television & What Bakwas Man!
Leading the pack of agitated A-listers was Mahira Khan. The usually mild tempered actress lashed out at the writer tweeting that she felt, "Sick to the core!"
She also warned her fans to not match "Jahaalat with jahaalat."
Read: A Troll Called Mahira Khan "2 Takay Ki" & She Had The Most Poised Response!
Ace director Nabeel Qureshi posted a series of tweets starting off with a massive dig on Qamar.
"Bohut se logoun ko perhna chahyeah mager wo like rahe hain," (Many who should be reading to gain knowledge are writers themselves."
OUCH!
Read: Tahira Abdullah Schools Khalil Ur Rehman On Feminism & YAAAS Queen
He went on to shame Qamar's supporters and rounded off by calling the writer, "S**t."
Read: Khalil-Ur-Rehman Qamar Continues His Streak Of Making Insensitive Remarks On Live Television
Read: Khalil-ur-Rehman Qamar Attributed Equality To Women Raping Men & This Has Pakistanis Infuriated
Singer and social activist, Shehzad Roy said what many have been saying all along: "Mera jism meri marzi nahi toh kis ki marzi ho gi??" (If my body is not mine then whose is it?)
Also Read: Parody Account, Pyare Khalil Is Flooding The Internet With Khalil-Ur-Rehman Qamar Memes & You've Got To See Them!
Sanam Saeed was quite obviously appalled by Khalil-ur-Rehman.
Anaa actor Alamdar Khan called for an all out boycott of Khalil-ur-Rehman Qamar dubbing him a "chauvinist" with a "disgustingly fragile ego."
Stand-up comedian Shafaat Ali rooted for Marvi Sirmed calling her "…a lady of steel."
Adnan Malik who played Khalil-ur-Rehman Qamar in Sadqay Tumhare stood up against the writer!
He further endorsed the slogan Mera Jism Meri Marzi and the power of these four words enough to unravel the fragile male egos.
Apart from entertainment industry, other famous personalities including politicians and people from business industry have also stepped forward.
Aamir Liaquat strongly condemned Qamar's harsh words for Marvi.
He continued his criticism saying that, "…the slogan was objectionable but your attitude remarks are even more objectionable."
Senator Sherry Rehman called out the anchor and Neo Network for "not taking him off air" as soon as he started to abuse Marvi.
She further added that "I will not accept any show on Neo Tv until the anchor apologises…"
While Aamna Taseer and Maheen Khan lauded the politician for raising her voice against the self-proclaimed feminist, Khalil-ur-Rehman.
TV host, Rabia Anum, felt ashamed that Geo had signed a contract with him recently and demanded the channel to "…take an immediate action against this man."
Shahbaz Taseer expressed his frustration by apologizing not just "for his actions but his entire being and pathetic existence."