It is no secret that Federal Minister for Science and Technology Fawad Chaudhry and journalist Sami Ibrahim don't exactly get along very well. Their dislike for each other first surfaced when the latter accused Chaudhry of plotting against Prime Minister Imran Khan and Pakistan Army.
Fawad Chaudhry responded promptly making personal attacks of his own, earning the ire of politicians, citizens and the journalist community.
People on Twitter criticized Chaudhry for using language that was unbecoming of a minister.
Fawad Chaudhry filed a defamation case against Sami Ibrahim which stated that Sami had alleged that the minister was working for Research and Analysis Wing (RAW) and the US Central Intelligence Agency (CIA) against the interests of Pakistan.
"To term a patriotic Pakistani and government office holder as an agent is contrary to moral and journalistic ethics."

-Fawad Chaudhry
Read: Fawad Chaudhry Memes Are Ruling Pakistani Twitter & You Need To See Them RN!
Hamid Mir also chipped in saying that Bol channel had also started a malicious campaign against other TV channels.
Sami Ibrahim currently hosts a show "Tajzia With Sami Ibrahim" on Bol News.
The spat between these two took an ugly turn in June when Fawad Chaudhry slapped Sami Ibrahim at a wedding ceremony in Faisalabad
Sami filed an FIR against Fawad Chaudhry at Faisalabad police station for physical assault.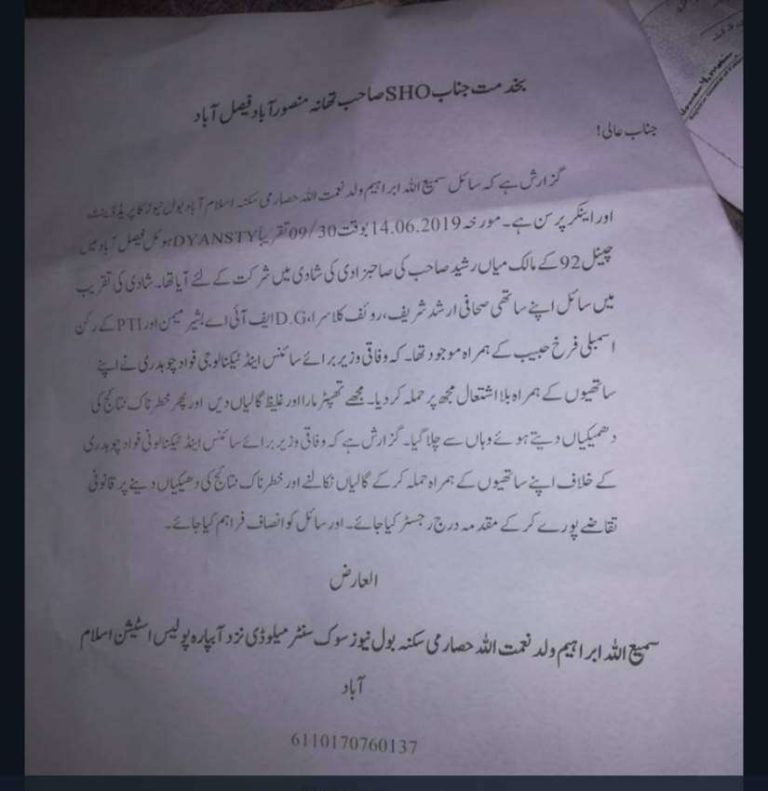 Fawad Chaudhry admitted that he had slapped Ibrahim after a heated argument.
Fawad Chaudhry accused Sami Ibrahim of Blackmail
According to him when he was the Information Minister, he had supervised the revision of a new advertisement policy. That policy divided the channels into A, B, C and D categories on the basis of ratings.
He said that Sami Ibrahim had asked for his channel to be placed in "A" category, also asking for an amount of Rs. 20 million as an adjustment. Chaudhry said he declined and Ibrahim resorted to blackmailing and hurling allegations.
On his part Ibrahim denied the minister's claims.
The spat between these two powerful men took another turn in the wrong direction on 29 August when Ibrahim alleged on his show that Chaudhry had accumulated a lot of wealth and that most of it remained undeclared.
He further said that he had proof regarding Fawad conspiring against Imran Khan and his team had submitted the same in High Court.
After the show, the Federal Minister tweeted this, referring to Sami Ibrahim as "PonnyTail."
This entire spat shows a lack of professionalism in the conduct of both Chaudhry and Ibrahim.
Ibrahim, seems to have long parted with journalistic ethics. His obsession with Fawad Chaudhry is a disturbing reminder of how all is not well with Pakistan's mainstream media industry and those who essay its most influential content.
Fawad Chaudhry is a Federal Minister and a senior politician and his behavior in public should reflect his position. Chaudhry could very well have taken a legal course if he felt aggrieved. There was absolutely no need to resort to such pettiness.