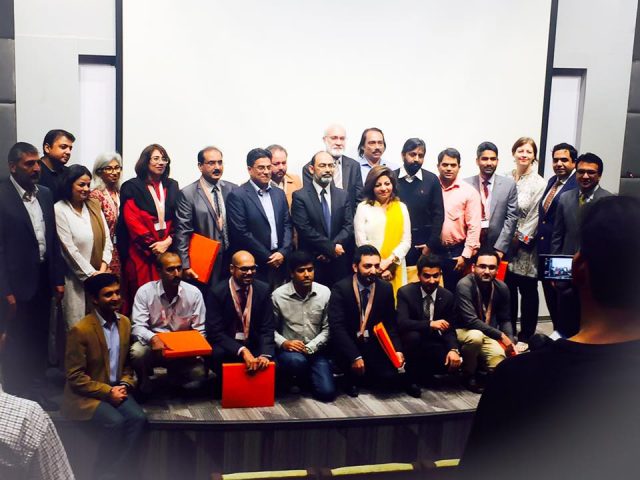 The Center of Excellence in Journalism (CEJ) in collaboration with Center for Communication Programs Pakistan (CCPP) organized the first Excellence in Journalism Awards 2016 at IBA City Campus, Karachi. At the first award ceremony reporters following the beat of "Health Issues" were awarded.
"Over 200 entries were received for the Health beat reporting," said Ms. Christie Marie, Program Manager, CEJ. She explained that the entries were classified into three main categories including Mainstream Broadcast (TV and Radio), Mainstream Print and Online and lastly District correspondents (TV, Radio, Print and Online). The winners were chosen by the Jury which included Mr. Rahim Ullah Yousafzai, Editor (The News, Peshawar), Mr. Wusatullah Khan, Freelance journalist and Analyst (Dawn News) and Ms. Farah Zia, Editor (The News on Sunday).
Mr. Kamal Siddiqi, Director CEJ addressed the audience about the aims and objectives of the organization. "These awards would recognize people who have written on health and encourage more reporting on this subject," aspired Siddiqi.
The first set of awards was presented to the health reporters working in the Mainstream (Print and Online) media. Winners included Zofeen T. Ebrahim (Independent Journalist) and Muhammad Suleman (News Lens Pakistan). Izhar Ullah (The Express Tribune), Sameer Mandharo (The Express Tribune) and Moniza Inam (Dawn newspaper) won the silver medals in the same category.
Ovais Ahmed Tanveer, (Express News) and Danyal Hassan (Dawn News) bagged the award as winners in Mainstream Broadcast category. Safdar Hussain Shah (PTV News) and Saifullah Cheema (Dawn News) ended up as runners up.
CEJ also acknowledged the services of District Correspondents working on the health beat in the print and online media, TV and Radio. The winners were Adnan Khatri (The Nation) and Mohammad Shahid (AWKUM Voice). Runners up in the same category were Amjad Ali (Daily Mashriq) and Nisar Ahmed Khan (Dawn).
"Health news should be made priority; it is given priority only at the time of crisis," said Dr. Seemi Jamali, Executive Director Jinnah Postgraduate Medical Center (JPMC). She was the keynote speaker at the event.
Winners in all the three categories were given gold medals along with certificates while the runners up were presented with silver medals.