I have been associated with the social sector for nearly a decade and while I have had my fair share of disappointments and cherished triumphs but what I value the most is interacting with people from diverse backgrounds. This experience has impacted my world view, mostly for the good. Looking back I find myself to be more mature and humble and while some of this can be attributed to growing old but my experience as a social worker has most certainly played a vital role.
It is because of the experiences that I have gathered in the line of my work that I am able to relate to the concerns of the so-called blue collar workers and feel perplexed at the discrimination that we mete out to them as a society.
I distinctly remember one incident when I was working with a rights based organization that took pride in standing for the causes of social protection and poverty alleviation. One morning I walked into the office kitchen to make myself a cup of tea. As soon as I picked up a mug, the office chef plunged forward and snatched the mug away. Baffled, I asked, "Kia howa, bhai?" (i.e. "What happened, brother?") to which he responded, "Sir this is William's mug." Still confused I asked, "So what?" To this inquiry he tried to mumble a justification that did not make much sense. I took the cup from him and told him that William and I were on cordial terms and he wouldn't mind me using his mug.
For those of you who still can't grasp what happened, it is a common norm that utensils used by domestic help – be it Christians or Muslims – are kept separately. Some justify this under the pretext of religion while some find refuge under hygiene concerns.
Interestingly, few weeks later a senior executive who incidentally was William's namesake visited our office and had lunch with the whole team. He was, however was not discriminated against on religious grounds and enthusiastically served lunch in the same utensils as those used by the rest of the staff.
This clearly went to expose the classist mentality of those working for an organization that ironically stood for non-discrimination and equality.
Unfortunately, this classism is wide spread and the discriminatory practices are not merely limited to separating utensils. For instance, it is customary in most households for the domestic help to sit on the floor while we would sit comfortably cushioned in our sofas.
Similarly, the dark and gloomy living quarters that are bestowed to the domestic help hold a striking resemblance to a prison cell. This alone goes to show the lack of empathy that we as a society feel for those less privileged than us.
So involved have we become with preserving this classist status quo, that the high and mighty are now making attempts to institutionalize it. A recent circular by the Secretary of Lahore Defense Club disbars servants, maids and drivers from entering the  lobby, library, all restaurants, sports halls, grounds and all offices except the cash counters. Now I am just presuming that the cash counters are exempted because these domestic helps have to stand in ques to pay the bills of their benevolent masters. One wonders why bother with this circular at all? Why not just put a sign outside the club stating, "Pets and domestic help not allowed!" But then again, I'm unsure about the pets!
Similarly last year a circular by Creek Vista towers in DHA Karachi asked the owners not to give their elevator access cards to servants as the blue collar workers were allowed to use the cargo lifts only. I can only imagine the look of horror on the faces of the residents at the sight of sharing an elevator with a maid! Sadly, the management does not even realize that with this directive they equated humans with life-less cargo. Clearly education has failed on these souls.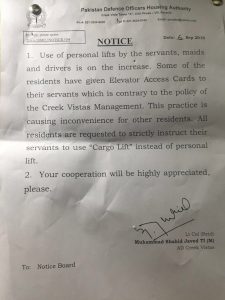 The recent case of alleged torture of a minor girl, Tayyaba in Islamabad by the family of a session judge highlights that we as a society have failed to walk the talk. First and foremost it does not require a rocket scientist to understand that Tayyaba should not have been doing domestic chores and should rather have been attending school. More importantly, it is not lack of awareness but lack of humanity that made the employers subject the 10 year old child to harsh torture – something neither them nor us would do to discipline our own children! Is it possible, that the indoctrination of classism over the generations has become so deep rooted that we have simply become oblivious to our horrendous actions?
As repulsive as each of these cases are, they offer us with an opportunity to reflect upon our actions and decide if this is truly how we should be treating those who work long hours to cook for us, clean up our mess and tend to our children? They do all this for a salary which is mostly below the minimum wage and a job that has no annual holidays or medical insurance! Yet we have the audacity to belittle those who ardently take care of us nevertheless.
No matter what you've been socialized to believe, bear in mind that apathy and cruelty is never alright. If you're among those who treat their domestic help with disrespect, then at least have the courtesy to own up to the fact that you're a dishonourable person who deserves neither the society's respect nor your employee's goodwill.