So, we were watching the previous episode of Pepsi Battle of the Bands again and amidst admiring the performances of the front runners, Badnaam and Kashmir, we had an epiphany!
Remember when Kashmir gave a mind-blowing performance on their original single, Kaghaz Ka Jahaz? The crowd loved it and the judges stood up at the end of the performance to give the band a standing ovation.
Also Watch: Candidly Yours – Episode 2 – Featuring Badnaam
While Shahi Hasan, Meesha Shafi and Fawad Khan all had wonderful compliments to lavish the band with, Atif Aslam decided to take his admiration a notch higher and went up to the band to give them a hug.
Now, this must have been a huge moment for the band because of all the judges, Atif Aslam had been the toughest to please based on their past episodes.
But as great a gesture that it was, we couldn't help but feel déjà vu.
Also Read: A Look at the Journey of Kashmir on Pepsi Battle of the Bands Before B.O.B's Finale
It brought to mind the many times Anu Malik in his signature hyper-ness jumped off his seat to hug contestants on Indian reality television.
Watch the hug up close and tell us we're not overreacting!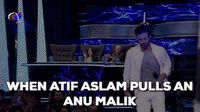 After Kashmir's powerhouse performance, the hug was certainly well deserved! In fact this is what we believe Anu Malik would have screamed while running to the stage to hug Kashmir: