Proclaiming himself as the "…alternative Prime Minister of Pakistan" on his Twitter account, Nawab Amber Shahzada has contested and lost a record 41 elections in his political career spanning 29 years!
Also Read: The Threat of Extremism in Our Universities is Real and This is What We Need to Do to Curb It
In 1988 at the age of 25, Nawab Amber Shahzada founded the Aap Janab Sarkar Party while still a student. The same year, he took part in the general elections contesting to become a Member of the National Assembly (MNA).
At the time, his party's quirky slogan was:
"Leader bey-zameer;
Awaam bewaqoof!
Inqilab laingy,
Awam koo jagaingy!"
(TRANSLATION: The leaders have no conscience, The masses are stupid, We'll bring a revolution to wake up the people).
Also Read: How I Have Seen 9/11 Change Pakistan
Over the years his political philosophy has slightly evolved to this politically incorrect but brazenly honest statement, "Siasat-dan ko zarurat ky mutabiq corrupt hona chahye. Jabke yeh khawahish ky tehad corrupt hain." (TRANSLATION: Politicians should be corrupt as per need. But these people are corrupt with desire).
The party's new slogan in light of this political ideology is:
"Thori rishwat,
Kaam ziyada
Wazir-e-Azam,
Amber Shahzada!"
(TRANSLATION: Less bribe, More hardwork; Our Prime Minister will be Amber Shahzada)
The same ideology is plastered in bold on his campaign ad.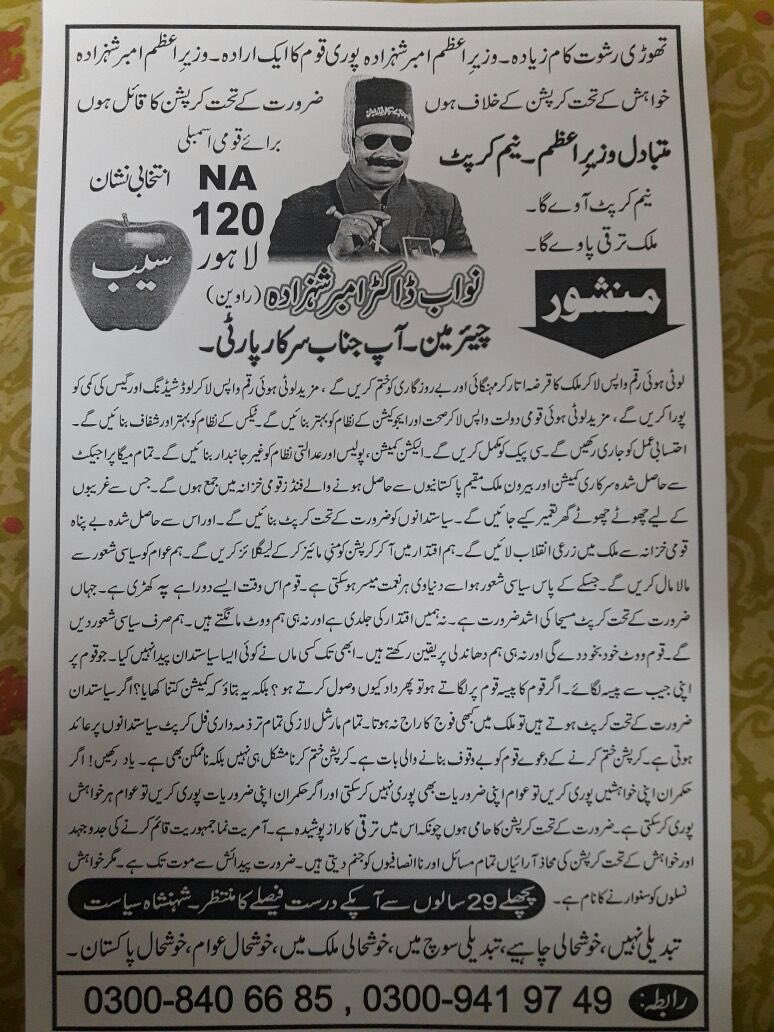 he brands himself as "neem corrupt" (i.e. semi-corrupt). See his campaign poster for proof!
— Nawab Amber Shahzada (@NawabAmber) September 8, 2017
Of the 41 times that Amber Shahzada has contested in various elections, he stood for the seat of the President 4 times, 3 times for a spot in Senate and 6 times for MNA from NA120.
And although Amber Shahzada has never succeeded in winning an election, he refuses to accept defeat. He claims with a lot of conviction, "For the rest of my life, in the same get-up, I will continue with my style of politics with greater zeal."
Also Read: Important Actions YOU Can Take to End the Genocide of Rohingya Muslims
We're entirely unsure how to react to Nawab sahab and his animated style of politics but full marks to him for putting up a better show than seasoned politicians!
Watch Voice of America's recent report covering Nawab Amber Shahzada and let us know what you thought!
لاہور کے حلقہ این اے 120 کے ضمنی انتخابات میں ایک ایسے امیدوار بھی میدان میں ہیں جو 1988 سے اب تک قومی و صوبائی حلقوں سے 41 بار الیکشن لڑ چکے ہیں۔جیت کبھی ان کا مقدر نہیں بنی اور ہار انہوں نے مانی نہیں۔www.urduvoa.com

Posted by VOA Urdu on Sunday, September 17, 2017