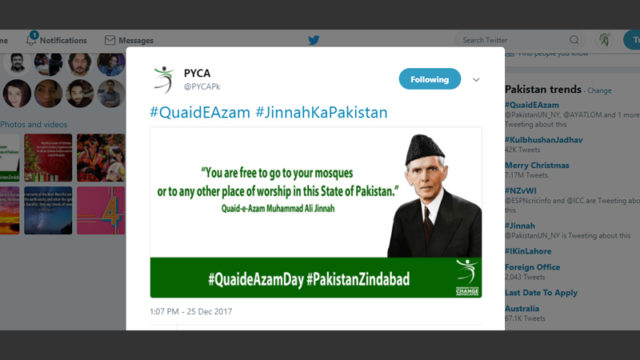 Here is a look at some very interesting and thought provoking quotes from Jinnah that were shared on twitter by Pakistanis on the occasion of his 142nd birthday under the hashtag Jinnah ka Pakistan.
Also Read: 5 Interesting Facts About Quaid-e-Azam That You Don't Learn In Text Books
Seems so relevant even after 70 years of independence!
My message to you all is of
Hope,Courage and Confidence
Quaid e Azam#JinnahKaPakistan pic.twitter.com/QmeIzH3uox

— Mashal Fatima (@MashalFatma) December 24, 2017
Goes on to show quite clearly that Quaid was a staunch advocate of equality!
Each citizen of #Pakistan should enjoy the same rights and privileges as other citizens so that he may play their rightful part to build a prosperous Pakistan.#JinnahKaPakistan@iStunning_girl pic.twitter.com/4e18z1Nl0n

— Zara Ali (@ZaraAli_Iam) December 24, 2017
We are members of the brotherhood of Islam in which all are equal in rights, dignity and self-respect.#JinnahKaPakistan pic.twitter.com/ul5pyLFbaE

— عَلؔي‌ٔ✍ (@rrazzaki59) December 24, 2017
A pretty straight forward guide for those who aim to rule the country!
The Govt Can Only Have For Its Aim One Objective – How To Serve The People, How To Devise Ways & Means For Their Walfare, For Their Betterment.#JinnahKaPakistan

— Muhammad Sufyan Khan (@RealSufyanSays) December 24, 2017
My guiding principle will be justice & complete impartiality,& I am sure that with your support & co-operation,I can look forward to Pakistan becoming one of the greatest Nations of the world. (Address to the Constituent Assembly of Pakistan on August 11, 1947)#JinnahKaPakistan pic.twitter.com/FzSzHt8tF7

— Syed Osama Hashmi. (@iamsyed28) December 25, 2017
Reading this I really wish Jinnah could somehow explain the whole thing once more to the people of Pakistan.
Also Read: Our Indifference To Education is Failing Our Children
"Remember that the scrupulous maintenance and enforcement of law and order are the prerequisites of all progress. The tenets of Islam enjoin on every Musalman to give protection to his neighbours and to the minorities regardless of caste and creed"#JinnahKaPakistan

— Inqilabi Girl💕 (@AishaKhanPK) December 24, 2017
Let's wind up with our beloved Quaid's simple formula of success!
Also Read: In Pictures: 50 Years Of Pakistan Peoples Party – The Zulfikar Ali Bhutto Years
THIS IS THE MOST ESSENTIAL REQUIREMENT WHICH ALL PAKIS MUST FOLLOW! #JinnahKaPakistan pic.twitter.com/w7WsLnIkjj

— Kiran4u🌹 (@KiranDiamant4u) December 24, 2017