The attack on Sindh MPA Khawaja Izharul Hassan, a senior leader of  MQM on the day of Eid was a wake up call for our policy makers. Although Izhar  survived the  assassination attempt but an innocent teenager and on duty police officer was killed in this attack.
All the Attackers Were Young University Students
What is most perturbing is the emergence of a new militant outfit called  Ansarul Sharia Pakistan who claimed responsibility for carrying out the attack. One of the attackers who was killed was identified by the Sindh Police as Hasan Israr, a PHD scholar.
His accomplice Abdul Karim Sarosh Siddiqui, a former student of applied physics at the University of Karachi was injured in a raid but managed to flee.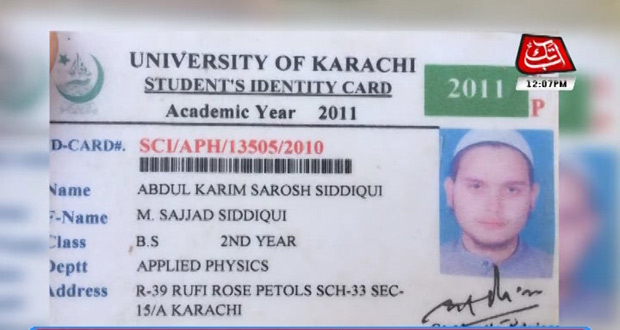 Also Read: Factors Pushing Youth Towards Violent Extremism in Pakistan
However, the Law Enforcement Agencies (LEA) have been successful in breaking the network as the head on Anar ul Sharia, Sheheryar who also goes by the alias of Dr. Abdullah Hashmi was arrested recently. Reportedly, he is an IT expert and was employee of NED University and holds a Masters Degree in Applied Physics from the University of Karachi.
The alarming pattern in the arrests of Ansar-ul-Sharia operatives is their penetration within the educational institutes from students to faculty members.
Following Abdullah's arrest the LEA carried out separate raids in Quetta and Pishin, which led to the arrest of Mufti Habibullah from Pishin. Habibullah teaches at a religious school in Hyderabad. The arrests from Balochistan resulted in nabbing Mushtaq who is a teacher at Balochistan University of Information Technology, Engineering and Management Science.
Involvement of Educated Youth in Terrorist Activities is Not New
However, the involvement of well educated University students is of no surprise to those who are working in the area of countering violent extremism.
Watch Video: Rai Azhar Hussain – The Resilient Face of Pakistan
The Counter Terrorism Department at Karachi held a seminar in July this year titled, "Growing Radicalization in Educational Institutions." This seminar was attended by officials of 40 higher educational institutes. The participants deliberated on approaches that can help universities in preventing vulnerable youth from falling prey to extremist elements.
What is Causing Radicalization in Our Educational Institutes?
Radicalization in our educational institutes can be attributed to multiple factors.
Firstly, the indoctrination of students with hate based literature, which is rampant in our curriculum plays a vital role in developing an extremist mindset.
Moreover, it is observed that students who are affiliated with hard sciences are particularity at risk from falling prey to such extremist outfits. The reason being that our universities do not invest in developing critical thinking skills or provide an atmosphere where social debates can transpire in a healthy manner. Thus, such students are exposed to propaganda and lack skills to refute this hateful narrative.
Also Read: From an IDP from South Waziristan to a Model
The lack of availability of psychologists at most universities is also a key factor. As many cases of students  who are suffering from depression or going through a radical behavioral change remain undetected. Such support mechanisms would help young people in channelizing there frustrations.
How Can radicalization in Our Universities be Curbed?
What is needed is a multi-pronged approach which encompasses the provision of a vibrant atmosphere at the campus. This would mean more allocations for provision of facilities of sports, campus radios and dramatic clubs. This would allow students to have alternate avenues where they feel free to express their thoughts, aspirations, frustrations and even fears.
The youth bulge in Pakistan is real and we direly need to build programs that can help this surplus of young people to transform into a productive human resource and become an asset for Pakistan.