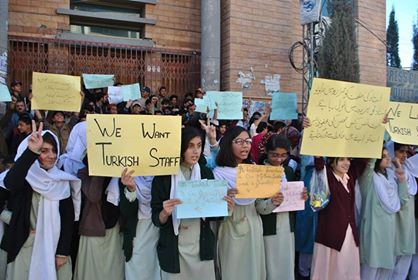 A protest demonstration by students, teachers and administration of Pak-Turk schools was held in Quetta. This protest was in line with the nationwide demonstrations by staff, students and sympathizers of the Pak-Turk schools across all major cities of Pakistan.
During the protest at Quetta, this afternoon, students took the lead in demanding a halt to government's plans of sending back staff members, including teachers, who were of Turkish descent.
The students were particularly concerned about losing beloved teachers. Many felt that their association with the school would not remain the same in the absence of the staff that they had come to greatly love and respect over the years.
Children as young as 5 years were present at the Quetta protest chanting slogans in favour of the Turkish staff.
The presence of such young children went to show the overwhelming support that the Turk staff has received from the parents and guardians of the students attending Pak-Turk schools in Quetta.
In between chanting slogans, the protesters also offered prayers for the restoration of Turkish staff members at the Pak-Turk Schools.