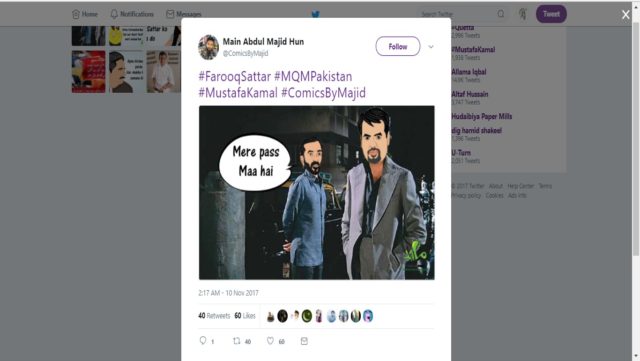 The merger of MQM-Pakistan and Pak Sarzameen Party (PSP) was a major political development this week in Pakistan. However, the merger lasted for 24 hours only and hence, people were able to see the funny side of things and decided to share their opinion on twitter.
Also Read: These Pakistanis Had A Rib-Tickling Reaction To Paradise Papers And We Can't Stop Laughing!
Here is what they had to say following the merger.
Well, some believed it was all a drama!
Pakistan has an awesome drama industry, just have a look at the recent drama #FarooqSattar & Mustafa Kamal.
So much talent! pic.twitter.com/vB02nJ4IGv

— – (@Parniyan_zzz) November 8, 2017
Noman Ijaz is a legendary actor but still can't beat Farooq Sattar and Mustafa Kamal.

— McSleepy (@Seeen_Jeeem) November 8, 2017
And this guy here felt it was all a prank!
Yh dono mila kr bnarhay thay😂😂 #FarooqSattar #MQMP pic.twitter.com/spNWiGA8EK

— ❤😘 (@abquari90) November 8, 2017
Because you don't talk about Farooq Sattar without mentioning Thakhur!
Watching the Press Conference….

Hmmmmmm#MqmPSP #FarooqSattar pic.twitter.com/BdpJ9WwukO

— Aسad ™ (@iAsadM) November 8, 2017
Takur is watching #FarooqSattar pic.twitter.com/ZoRhCT3BCp

— Fiza Haider 🇵🇰 (@fizaHaider13) November 8, 2017
A marriage of inconvenience would have made sense but forced marriage?
MQM PSP merger will set a world record of world's largest arranged/forced marriage.#farooqsattar

— Syed Ali Abbas Zaidi (@Ali_Abbas_Zaidi) November 8, 2017
This person too believed it was a marriage of sorts!
#FarooqSattar enjoying the party 🤟🤣
PSP and MQM getting married

Mustafa kamal pic.twitter.com/P29FmXVjov

— Farooq Afridi (@FaryAfridi1) November 9, 2017
Clearly, this guy doubted Farooq Sattar's claim.
#FarooqSattar has said that he has 45 years political experience.

Does it mean, he was in politics since his pamper days?

— Kunwar Khalid Yunus (@KunwarKhalidYun) November 8, 2017
Self explanatory for anyone who uses twitter.
when 280 characters met 140 characters#FarooqSattar pic.twitter.com/3ZWS6yu5A8

— Nabeel Chaudhry (@chaudhry_nabeel) November 8, 2017
Following cancellation of merger plans this is how people responded to the development.
This person felt it was a case of a failed marriage!
Married yesterday, got divorced today, I wonder if anyone has seen a short-lived marriage like this before even a political one.#FarooqSattar

— Waqas Ahmed Qureshi (@IamWaqasAhmaed) November 9, 2017
People obviously had things to say following the Land Cruiser controversy!
Reason of break up
"Land Cruiser" 💔😭#FarooqSattar pic.twitter.com/mEAryvxeRh

— ♡اجنـــبی لـــڑکی♡ (@khan_ki_cheeti) November 9, 2017
Farooq Sattar drive Land Cruiser 🚙😁#FarooqSattar pic.twitter.com/VcHrJWQUZn

— Hassan Roonjho® (@Hassan_Roonjho) November 9, 2017
This segment of Farooq Sattar's press conference
Sponsored by PakWheels#FarooqSattar drive LandCruiser 🚙pic.twitter.com/lMMUwBBSf0

— Jia☔BarishTeamInsaaf (@JuhiMoin) November 9, 2017
It is complicated for sure!
The new name for MQM-P and PSP alliance should be Mutahidda 'Qaumplicated' Movement.#MQMPakistan

— Anas Tipu (@teepusahab) November 8, 2017
The entire thing did sound like a joke to some, definitely!
#FarooqSattar explains his yesterday's presser with #MustafaKamal. pic.twitter.com/uqTMLNIlAC

— Ali Salman Alvi (@alisalmanalvi) November 9, 2017
So is the merger still on? To be fair the whole episode has been confusing, for sure!
While listening to #FarooqSattar pic.twitter.com/XpqZuOMAPP

— Zehra Sherazi (@sherazi_zehra) November 9, 2017
The meme pretty much sums up the situation following MQM-P's press conference.