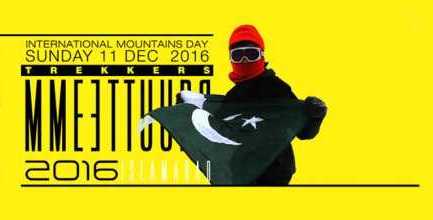 As I walked through the gate of Adventure Inn, Islamabad, I saw a few tents pegged in the corner of the lawn with Pine trees and early morning smog in the background. It was a complete ambiance of a trekking campsite. With signs of ashes having burnt the ground, it was evident that night was colder yet the campers made it warmer by making a fire for themselves.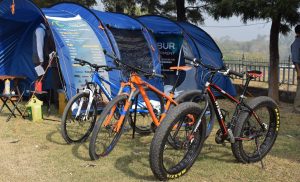 With the sun getting warmer and people pouring in, I began to greet and see some of the most unique breed of people. With perfectly ordinary physical and social appearance, one would not know unless told that all these people had brought exceptional experiences from places where humans are not generally supposed to go. Their summers were spent on some of the remotest places in the northern Himalayas and Karakorams. These were the trekkers and mountaineers from all across Pakistan!
They had come to share their experiences, greet old friends and make new ones, some to learn some to teach, some about to start while others about to retire from the sport. From the youngest to the oldest, they were all there; the love of mountains had all brought them together.
I had to cover a lot of ground during the International Mountains Day event and all this time, all I heard was mountain talk. In a country with politics and religion being the most controversial and yet talked about topics, the notion of having mountains on everyone's mind was a pure and pious experience. For a moment, I let go of my responsibilities as an organizer and immersed in the mountain talk as everyone else was.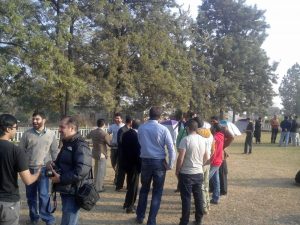 It was a community, for whom, mountains are not just grand structures but spiritual beings. Admiring them from far away is one thing, going over and unifying with them is a holy experience that objectively shapes their persona. That feeling of being on the mercy of nature is the mere reason that revives their souls and restores their faith.
Everyone I met that International Mountains Day had a strong sense of love for the mountains for they were their one true source of inspiration. Each mountaineer's perspective might be different but what brings us together is our inborn curiosity of finding the unknown.
Once the event formally started, each passing presentation had a mesmerizing story of remote paths, unbeaten trails and near impossible passes. Notable among these were presentations by Aziz Ahmed Jamali, who encouraged the audience to come and explore the remote traverses of Balochistan. In one corner of the hall, I was wondering that it was not the achievement they all shared but their own experiences that reflected human feelings where one is on the mercy of nature alone. We as adventurers, never put ourselves in a race for conquering but rather being part of something that touches our soul. In doing so, we face potential dangers apart from the calculated risks but for us it's the inherent risk of the game or at times, merely the test of nature!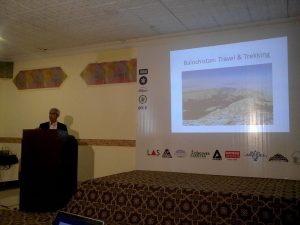 With members as old as Mr. Saad Tariq Siddiqui at the event throughout, a profound mountaineer of his era, I realized that mountain addiction is hard to let go of. This phenomenon is hard to understand for people who haven't experienced this drug, yet through this event, with some of the mountaineers from late 70's, it was evident that there is no remedy for this addiction.
The Mountains event presented another perspective quite opposite to the black and white times. It was the youngest lot that has just taken the drug of mountaineering. Having found nirvana in the utter wilderness at a tender age, where emotions are fragile and energy is high; these young souls have learnt the art of embracing the risks of the mountains with innocent prowess. More than that, they have already started dreaming larger than life. The young Shehroze Kashif was there; a mere teenager who scaled two grand heights this year. I was wondering how beautiful were these two ends, a paramount transition of one representing a glorious past while other embracing a bright future. This was the life cycle of a mountaineer disclosed in such a meaningful manner and to me that was the climax of the day.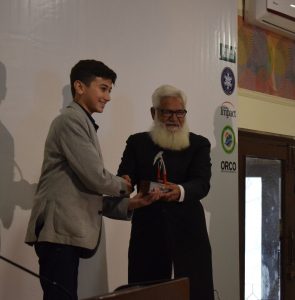 I am not a social person by nature and try to avoid social gatherings where possible. Part of the reason, I hate those fabricated shells people build around and present themselves as what they are not. I carried this insecurity with me to this event as well. But I was quickly carried away with the positive energy in the premises. Looking at the people from a distance, I realized we don't have a collective name and we don't have a business objective. We don't speak the same language and we don't have the same color. Yet here we were, paying our gratitude to the mountains of this country that had brought us together.
Pakistan is a land of tremendous opportunities with adventure sports having enormous potential. On this International Mountains Day, we, the adventurist community passed a message of solidarity and peace to the masses. With all the negativity projected through mass media, we gave the world a beautiful Pakistan and let them see it through our eyes.