The term "Chai Wala" has forever become associated with this young man from Islamabad who became an international sensation after his picture went viral on the inernet. The iconic picture that emphasizes his good looks and beautiful eyes was posted by Javeria Ali (Jiah's Photography) on social media and within a few hours it became the most trending topic in Pakistan.
We give you a round-up of the Twitter reactions in the last 3 days since the handsome Chai Wala became famous!
Meet @jiahali, the girl who made #ChaiWala viral on internet. #JiaPhotography pic.twitter.com/AXtUB2xp8m

— Sanam Baloch (@SanamBalochfans) October 18, 2016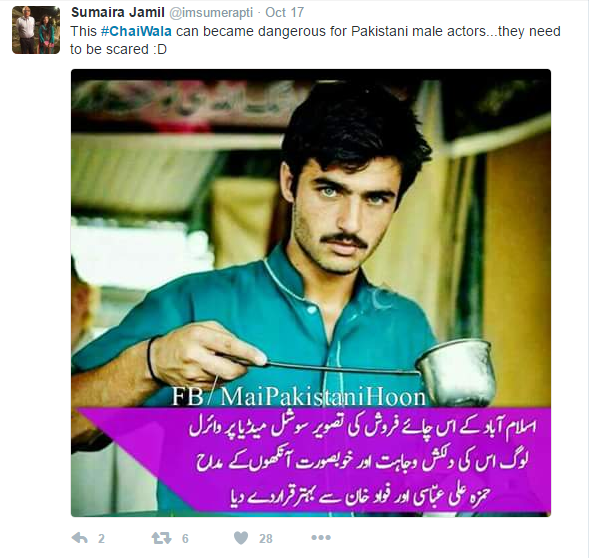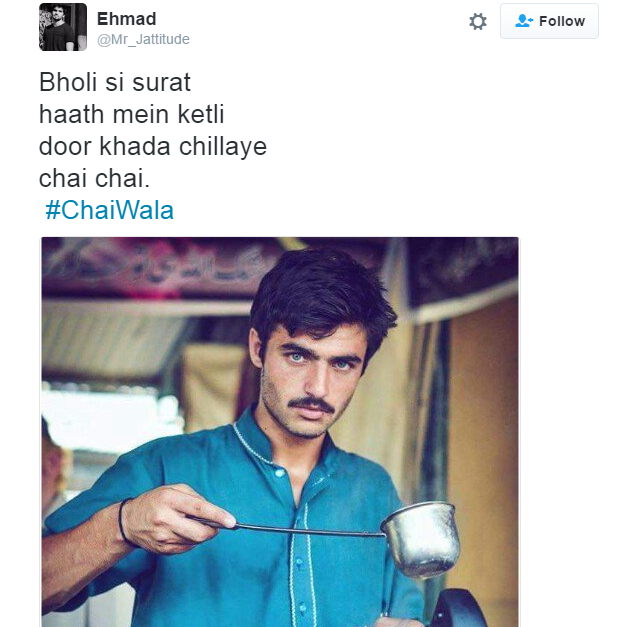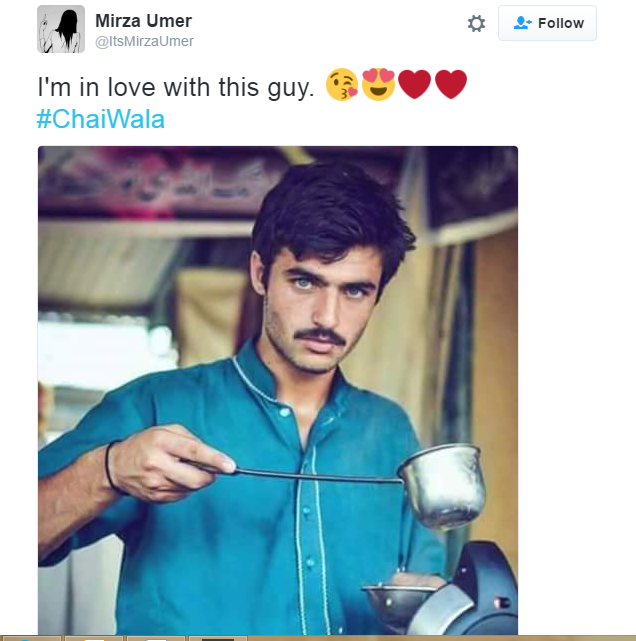 Famous Pakistani singer and model Meesha Shafi also took to Twitter and her tweet was perhaps the summary of the whole trend.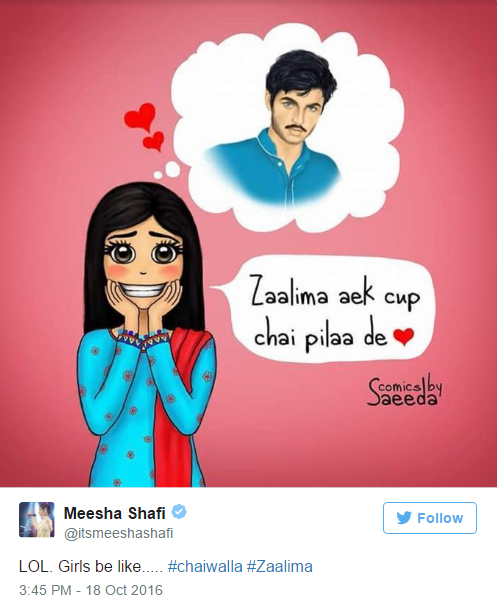 Most of the boys from Mardan posting their photos on social Media trying to impress People ?
Sorry Guys, #ChaiWala is only one piece.?

— Ihtisham ul Haq (@iihtishamm) October 19, 2016
When you're a news reporter and can't hide your love for the #ChaiWala. pic.twitter.com/ebNxZmsCbO

— Naila Inayat (@nailainayat) October 18, 2016
Some used Chai Wala to take digs!
This #ChaiWala is more popular than Mamnoon Hussain. ? pic.twitter.com/hWh78su2nG

— Sanam Baloch (@SanamBalochfans) October 18, 2016
Surgical Strikes on Indian girls though Pak #ChaiWala . Do we really need to unleash our other weapons? ?????? pic.twitter.com/28AnCEGQWG

— Sohail Cheema MD (@sohailcheemamd) October 17, 2016
#ChaiWala guy getting more attention than this #ChooranWala pic.twitter.com/FCstbdYpTj

— Nebeel ? (@hyp3rfr3ak) October 17, 2016
Men, are you offended by the objectification of the #ChaiWala? Here's something you can do to avoid such harassment in the future. pic.twitter.com/Wo2NV51guZ

— A. (@Ezraile) October 17, 2016
Can this #ChaiWala (Tea seller) give our nation;
Uni-tea
Equali-tea
Safe-tea
Prosperi-tea pic.twitter.com/dSfSnzOeIK

— Divergent (@Neurotic_Romeo) October 17, 2016
Such was this young man's charm that even international audience was forced to take notice!
This Hot Pakistani Chaiwala Is Now A Worldwide Sensation And Has A Modelling Contracthttps://t.co/272Pv8dbye pic.twitter.com/OGp9zKCFeW

— BuzzFeed News (@BuzzFeedNews) October 19, 2016
How long before #Pakistan invites this hunky tea-seller to become a brand ambassador? May help address its global image problem. #ChaiWala

— Michael Kugelman (@MichaelKugelman) October 17, 2016
Pakistani going crazy with #ChaiWala, here we present Brad Khan Pitt ? @BradPitt pic.twitter.com/MoVNmQo6IG

— Afghans (@Afghanians) October 18, 2016
Pakistan has #ChaiWala looking like this. Please dont bomb it, thanks. ?? pic.twitter.com/uK4GhC4dik

— Shruti 🙂 (@shruti_writes) October 17, 2016
#Chaiwala is in our news too!! #BBC

BBC News – Pakistani 'chai wala' turns model after finding fame https://t.co/xiOWcD3xAo

— Farhat Javed Rabani (@Farhat_Javed) October 19, 2016
From Chai Wala to Fashion Wala in a matter of days!
However, this was not just another social media trend that would soon be replaced by any other internet sensation without making any significant change in anyone's life. The Chai Wala was soon tracked by the photographer herself and many media houses. Turns out, his name is Arshad Khan, an 18 year old boy who worked at a tea stall in Islamabad's Sunday Bazar. But the story does not end here.
Following his newly found fame, Arshad was soon offered his first modelling campaign by Fitin.pk, an online shopping site based in Islamabad. Mr. Khan signed the offer and now we can see him donning the clothing line by the company on their website. Who would have anticipated that a single social media post could bring such a positive change in someone's life! It is indeed the prevailing influence of social media in our lives that the message on the picture of Mr. Khan reads, "Chai Wala is no more Chai Wala. Now he is Fashion Wala."
This is the POWER of social media. The famous #chaiwala is now a model. He has been hired by fitin.pk pic.twitter.com/yOSFF4RKhL

— Madhav Sharma (@HashTagCricket) October 18, 2016
he went from bein a chaiwala to a model in days https://t.co/7yrxNzPecj

— sam (@saimaloveee) October 20, 2016
Pakistani Chaiwala now has a modelling contract so I guess he's now a MILLLIONAIRRE CHAIWALAAAAAA WHATAAA PLAY AAAAH CHAIWALAA #YouRemember

— Tanmay Bhat (@thetanmay) October 19, 2016
Blue-eyed Pakistani chaiwala lands modelling contract https://t.co/mnKmvDbPSj pic.twitter.com/f1LBnHEuVn

— Geo English (@geonews_english) October 19, 2016