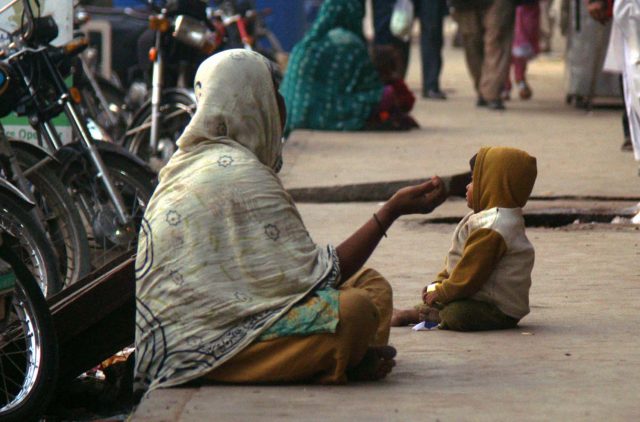 The word "beggar" traditionally classifies those individuals who don't have enough money to fulfill basic needs such as food, clothes, education etc. However, for the last decade or so, the concept of beggars has evolved into something entirely different.
Beggars in Pakistan specifically in Karachi cannot be classified under the conventional definition because as highlighted by various researches, the significant majority of them are begging not because of their circumstances but out of choice.
However, what is heartbreaking is to see very young children begging on their caregivers' behest. I tried to have a small conversation with a child who was just 12 years old, regarding his work and why he wasn't attending school. His reply was simple yet gravely upsetting, "School Jana hai. Liken agr school jaun ga tou khana kahan say khain gy" (I want to go to school. But if I go to school, where will we eat from?)
In situations like these we usually end up blaming the government. However, I would put the burden of blame on the parents and/or caregivers of these children. It is important to point out that there are a number of schools run by NGOs in Karachi that pay underprivileged children to receive free education.Unfortunately records show that many students, drop out after attending these schools for a few days. The reason? The schools cannot match the earning that the child brings home through begging! Why waste time on education when your 5 year old can earn more in a day dragging his/her bare feet on the roads!
In my observation, beggars in K-town are now so professional that they keep reinventing themselves to gain sympathy and hence more money from unsuspecting charity givers. Variations from a blind act to a half dead person being dragged on the road by a seemingly hapless relative are common sights all across the city.
Switching locations is also a common practice. A close friend once told me that he saw a man begging near his office and he realized that he had seen him the previous week in another area. My friend having the "Pakistani Panchait" (curiosity) went to the man and asked him why he had changed his location. The beggar replied that he had given that area to his daughter, now that she was happily married!!
I'm sure that many of the readers also have their own similar stories to share. While, we can choose to exchange these tales and laugh, there is no denying that this professional form of beggary is a serious societal nuisance. And no, beggary is not a nuisance because the beggars make it impossible for me to have a guilt-free meal in an open public space but more importantly because they are forcing thousands of children to remain deprived of education and hence any chance at a better future. This alone should be a cause of grave concern for a country that is struggling with an education emergency.
It is here that the government seriously needs to intervene. While on one hand programs aimed at poverty alleviation ought to strengthened and implemented effectively, on the other hand there is an urgent need for The Sindh Right of Children to Free and Compulsory Education Act 2013 to be implemented immediately.