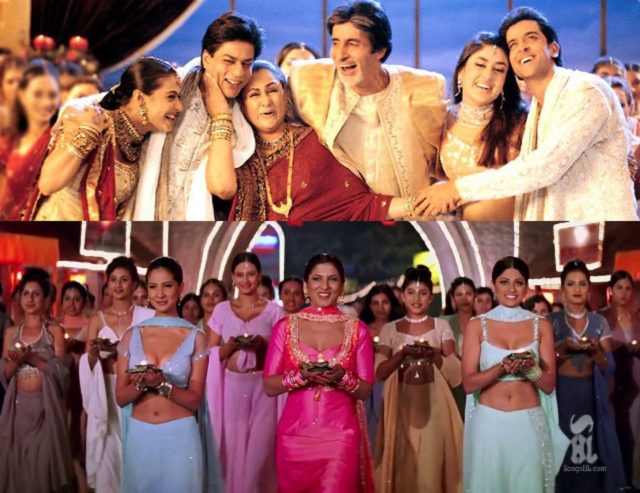 The festival of lights has arrived and Hindus across the globe are in a celebratory mood. And why shouldn't they be? After all mandatory rounds of mithai are in order; gifts will be exchanged and there will be plenty of reason to celebrate the victory of light over darkness.
Happiness is in the air and wherever there's celebration, there's also music. We thought of compiling a list of 5 songs that every celebrating household must play all day long.
Also Read: How Muslims Preserved Shiv's Temple In Mansehra
In no particular order, here is a list of some all time favourite Diwali songs!
Kabhi Khushi Kabhi Gham
Karan Johar's family drama, Kabhi Khushi Kabhi Gham was a festival unto itself. Colorful and peppy, this film was all about celebrating love and bonding with your family.
It's title track is a favourite on Diwali even after 16 years of its release.
Bole Churiyaan Bole Kangna
Another Diwali song from the film, Kabhi Khushi Kabhi Gham on this list would have to be Bole Churiyaan, Bole Kangna. If a song was ever truly festive, this has got to be the one! Love listening to it even after 16 years since its release.
Aayi Hai Diwali Suno Ji Ghar Wali
This song should literally be on every celebrating married couple's list. Its fun lyrics are a friendly banter between a husband and wife on the eve of Diwali.
Also Read: Landmark Hindu Marriage Bill Finally Passed by the National Assembly
The song has a 90's feel to it so the millennials might not enjoy it as much but it will bring back fond memories for those in their 30's or older.
Pairon Mein Bandhan Hai
This song from the 2001 film, Mohabbatein is a wonderful ode to the power of love. The song is about the triumph of love over all obstacles, making it especially apt for the festival of Diwali.
Deep Diwali Ke Jhute
This classic Diwali song is from the 1973 film, Jugnu. Featuring the legendary actor, Dharmendra, this song is dedicated to all the little ones who are undoubtedly at the heart of making any festival special.
From all of us here at Bolo Jawan, Happy Diwali!